Today I want to share about one of my favourite makeup products ever – Rouge Bunny Rouge SERENE LIGHT Skin Perfector.
And Skin Perfector is the best word to describe it.
This is the only "foundation" I've used on my wedding day. This could be the end of the review, really, as this alone shows how much I love it.
This is a  "light-reflective, sheer and very subtly tinted primer", as the brand describe it, and  it is exactly what it is. I find that it gives the skin that polishes and lit-from-within look. As I've mentioned, it is very lightly tinted so don't expect it to give you a full-on coverage. But I personally prefer a barely-there finish all over my face and a touch of coverage where I need it.
I just feel "too done" when I have a full on base, lipstick with a liner and a cat flick (which is my signature). It looks dated and aging on me, and I just don't feel comfortable.
Hence I am so in love with this product. Long time readers will know that I have a very dry skin, so this primer worked great for me, as it felt creamy and even moisturising, in a way. However, it is worth mentioning, that my friend with combo skin was not the biggest fan which just shows that it's ideal to test before you invest. Also, keep in mind that it does contain silicone.
Here you can see the swatches.
As this is a primer, you could (should?) wear a foundation on top but I loved it just like this.
As  I was writing this, I've started wondering how it compares to the hyped up Hollywood Flawless Filter by Charlotte Tilbury (which I have, as well). As you can, hopefully see, RBR (darker shade on the photo) has a bit more coverage and CT has a more intense glow.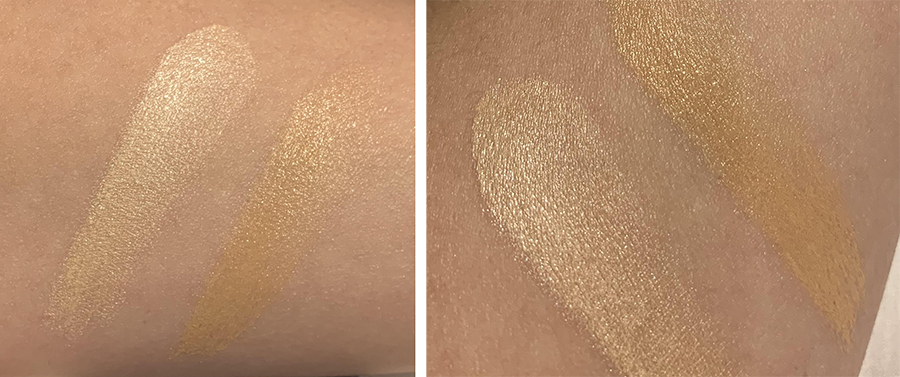 28 ml / 0.95 fl oz only now for €37.10