Do you want to know more about MK limited edition for this summer? Than keep on reading
NEW! Mary Kay® Tinted Lip Balm Sunscreen $13
The botanically-enriched formula of NEW! Mary Kay Tinted Lip Balm Sunscreen SPF 15glides on a tint of color while moisturizing with ingredients like jojoba oil and shea butter. Plus, it provides broad-spectrum protection against harmful UVA/UVB rays and helps neutralize damaging free radicals with the antioxidant power of vitamin A and vitamin C.
NEW! Limited-Edition Tropical Pineapple™ Gift Set, $30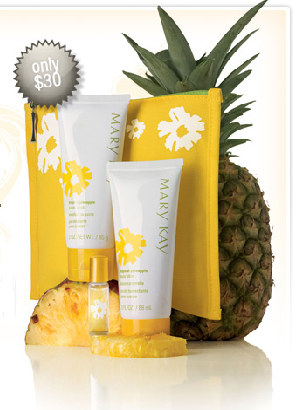 With a delectable sugar scrub, body lotion and fragrance rollerball, the NEW! limited-edition Tropical Pineapple™ Gift Set provides layers of lasting fragrance. It even comes with a festive canvas bag for summertime giving. But it's only available while supplies last. For only $30, it's an indulgence you can't afford to miss.
Details are different for different countires. So check out the details for Canada and USA.
You can check all the details for Russia dn Ukraine if you read in Russian by switching the language.