Foundation that made it's début at  Victoria Beckham's (AW14) show;  with the look  created by Pat McGrath? Need I say more? I am in!
What foundation was that? Max Factor's Skin Luminizer. I was sent one of the shades, so here are my thoughts: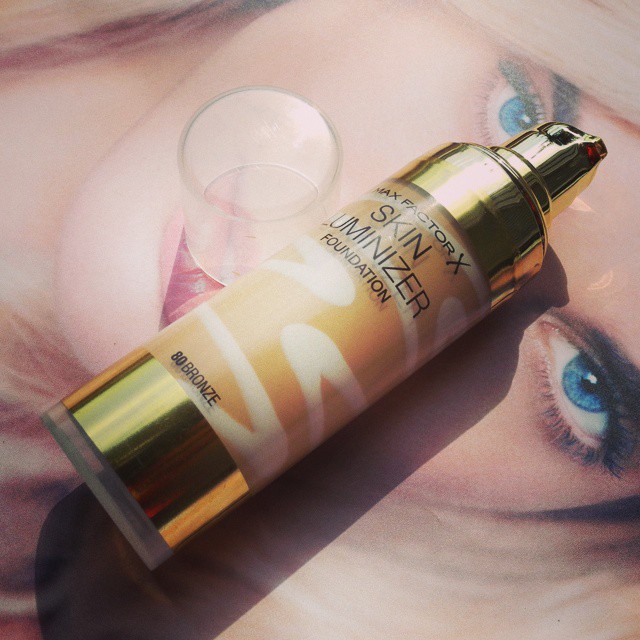 I am a big fan of the design, the cool swirly highlighter stripes add something special to it. Both products mix together, as they come out.
The packaging is made of plastic, which may not look  or feel so chic as my favourite, sadly discontinued Second Skin, but it is very handy for travelling and taking it with you, it is very light.
The pump is very well made,  it dispenses even a very small amount of product so you don't waste any.
What about the foundation itself?
It has a light-to-medium coverage. One layer evens out the skin tone, but it is buildable, and doesn't look   heavy or "mask-like" when you blend it into the skin properly. I find that I don't need a concealer with two layers.
I personally love using it with my fingers and almost massaging it into the skin, but Sigma brushes also work amazingly.
You get a healthy looking glowing skin. But the finish is not dewy (but definitely not matte), I'd describe it as a satin and luminous.   I also like that the glowing particles are very tiny so that  they are not noticeable, as it can be with some "glowing and illuminating" products.
This foundation feels light and hydrating on the skin which makes it a great option for dry and mature skin.
There are six shades available in the UK, and I have the darkest shade 80 Bronze.  I can make it work only because I have a tan.
The price is  £11.99 and you can get it from Boots and Superdrug.
If you want to see how it looks like on the skin, here is the photo from the mentioned VB show, and you can also see me wearing it on my profile Twitter photo.