Don't you just dream to create a smoky eye with only one product?
Soon it will be possible with Max Factor's Smoky Eye Effect Eyeshadows. They will be available in September and the price should be £7.99.
This is what Max Factor creative design director Pat McGrath says :
"Today is all about how real women wear make-up, so gone is the 10 step smoky eye. Max Factor smoky eye effect is the new beauty essential. It makes creating the smoky eye quick and easy and it's available in a variety of shades to play up the latest eye trends and classic smoky looks."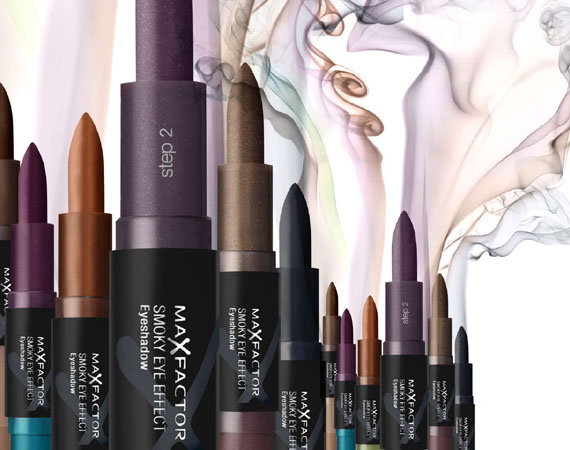 Designed with 2 simple steps in mind, the pen features different shaped heads; step 1 is rounded so you can effortlessly apply the lighter shade across the full lid, step 2 is darker and tapered to define the eye shape.
Velvety in texture, smoky eye effect blends easily to help you achieve a smouldering eye with total ease and without a make-up bag of brushes!
There will be 6 shades:
01 Max Factor smoky eye effect in Purple Dust
03 Max Factor smoky eye effect in Bronze Haze
04 Max Factor smoky eye effect in Onyx Storm
06 Max Factor smoky eye effect in Citrus Thunder
07 Max Factor smoky eye effect in Indigo Mist
08 Max Factor smoky eye effect in Silver Storm
Max Factore Make-up Artist Caroline shares how to create a perfect smoky eye with the new product:
Using step 1, sweep the lighter crayon over the entire lid and slightly above the socket bone.
Using step 2, sweep the darker tapered crayon along the bottom lid and define the outer corners of the eye. Use fingertips to blend.
To be in tune with the seasons look, brown mascara is a must. Layer lashes with two coats of False Lash effect mascara in Brown.
I personally can't wait to try these babes and what about you?