Hello, dear ladies!
I just came back yesterday so there will be no Beautiful Reading for today because I did not check out any blogs this week.  I would like to remind you about the Giveaway. You have 2 more days to enter! And to tell you about my latest love. So this is what  I got! Can't wait till January to recieve it. ( My friend from US kindly agreed to bring it here in January but I already payed for these so I just have to wait to get it;) )
Lancôme Expert Deluxe Brush Set( $59.00)
Discover five luxurious, precision-crafted, travel-sized brushes. Each is made of the highest quality bristles for professional application.
Foundation Brush #2: The must-have brush for flawlessly applying any foundation
Powder Brush #1: The pro for sheer, smooth, naturally flawless powder application
Precision Shadow Brush #12: The ideal partner for all Lancôme eyeshadows
Blending Shadow Brush #17: For the most precise eyeshadow application. Perfect for creating smoky eyes!
Dual Ended Brush #18: A flat, fine edged brush at one end for precise application wet or dry. A shadow brush at the other end
I was looking for photos and review and these brushes but could not find any, so you'll have to wait till January to read my review.
I also ordered this amazing set by Chanel:
Chanel Les Deux Levres Glossimer Set( $50.00)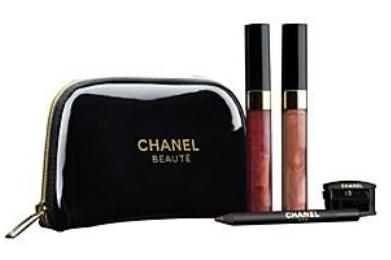 Gorgeous shimmer and high-shine glow make the perfect gift for lips. The best-selling lipgloss in two new inspired shades for giving: Spark, a golden berry, and Gazelle, an exclusive soft rose. Gift Set also includes a mini LE CRAYON LÈVRES Precision Lip Definer in Nude and a chic signature makeup bag.
I got these products from Bloomingdales