I have already written about some nail polish collections for Holiday 2011 which are all about glitter and shimmer. Here are some more collections but some nail polishes are with glitter and shimmer, too.
Orly Holiday Soiree
Androgynie, Black with multicolor glitter
Ma Cherie, Red creme
Oui, Purple multicolored shimmer
Au Champagne, White frosted matte
Le Chateau,  Dark green creme
Ingenue,  Pink multicolor shimmer
Zoya Feel 
Kristen (ZP591): Full coverage, gull gray cream
Carey (ZP592): Full coverage, periwinkle gray cream
Megan (ZP593): Full coverage, taupe gray cream
Kendal (ZP594): Full coverage, rose quartz beige cream
Kennedy (ZP595): Full coverage, pale french beige cream
Avery (ZP596): Full coverage, blonde beige cream
China Glaze Let It Snow
Poinsettia, Ruby redcrème inspired by the traditional holiday plant.
Ring In The Red, No Holiday season would be exact without this glittering redpolish for Holiday gatherings.
Winter Berry,  Ceamy,cranberry-red perfect for sipping hot cocoa by the fire.
Velvet Bow, Rich redcrème color inspired by your favorite red wine.
Glittering Garland, Adazzling glittery green to match the holiday greens of pine trees, garland, andmistletoe.
Holly-Day, Lookingfor a bold color without the glitz? Holly-Day is a rich hunter green withoutthe sparkle.
Champagne Bubbles, Sophisticated gold metallic with a golden shimmer.
Twinkle Lights, A mix ofglittery shades to emblemize twinkling tree lights.
Snow Globe, Frostywhite polish with flecks of snowy color.
Icicle, Smoothsilver shimmer with a hint of flash and ice.
Tinsel Town, Boldsilver, metallic glitter and the perfect match for sparkling night on the town.
Blue Year's Eve, Ring inthe New Year with this lustrous, shimmering blue.
Essie Cocktail Bling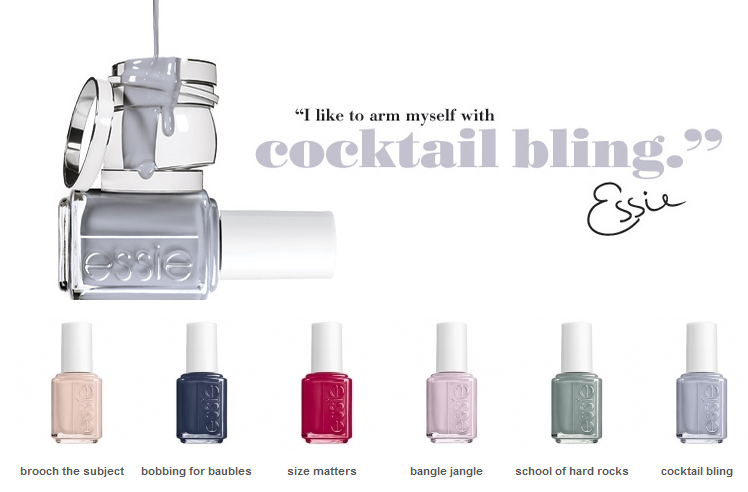 Brooch The Subject, a creamy cashmere cameo
Bobbing For Baubles, a deepest darkest sapphire
Size Matters, a blazing hot ruby red
Bangle Jangle, a lavender amethyst
School Of Hard Rocks, a midnight malachite
Cocktail Bling, a precious pale gray jewel