I have to say, that I am absolutely in love with this new  Spring release from NARS. The brand that is usually famous for their bold and unique shades did their take on natural pinks and  subtle neutrals.
And also singed up Tilda Swinton… Like her on not, but you can't deny that she is one of a kind, completely mesmerizing.
One more thing, I I just have to have an eye shadow which is called Valhalla, although shimmering pink is not the shade it'd pick for such name.
Eyes
Eye Paint, $25/£18.50
Porto Venere, Soft Pale Pink
Shimmer Eye Shadows, $25/£18
Valhalla, Soft shimmering pink peach
Duo Eye Shadows, $35/£25
St-Paul-De-Vence, shimmering nectarine
Lips
Lip Gloss, $26/ £19
Guyane, Seashell Pink
Vent Salé, Silver Highlight
Sheer Lipstick, $26/£20
Face
Blush, $30/ £23
Reckless, Sheer Pink Shimmer
Besides this collection, there are also quite a few other products: NARSissist Dual-Intensity Eyeshadow Palette, $79/ (Europa – Gossamer Pink Peach, Himalia – Shimmering Topaz, Ursa Major – Chocolate Glaze, Subra – Black Orchid, Andromeda – Alabaster, Lysithea – Shark Grey, Giove – Navy and Sycorax – Black; #49 Wet / Dry Eyeshadow Brush).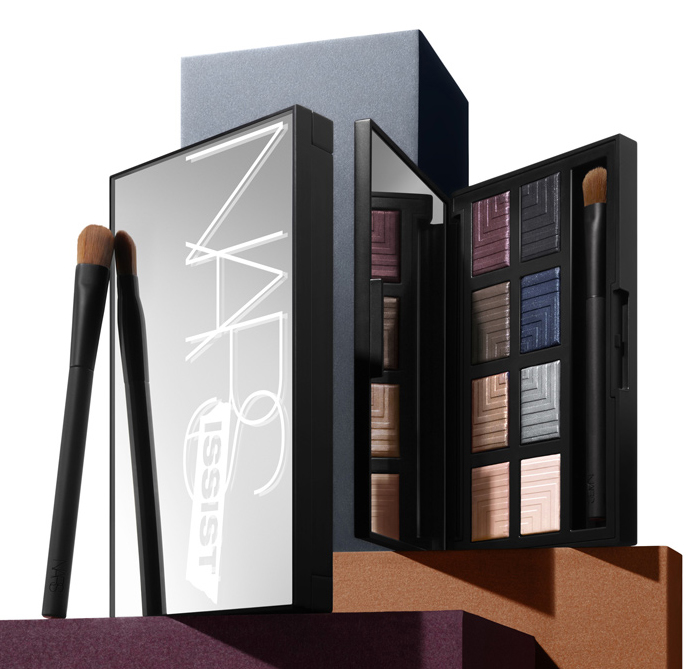 All Day Luminous Weightless Foundation, $48/£32
"Full, natural-looking coverage with unexpectedly weightless, 16-hour wear." Available in 20 shades
Soft Velvet Loose Powder, $35/£26.50
"Sets foundation and controls oil, while visibly blurring the appearance of fine lines and pores with a soft-focus finish."
Valley Soft Velvet Pressed Powder, $34/ £25
"Triple-milled for a light, silky texture, Pressed Powder provides sheer, natural coverage to set makeup, soften color and smooth the skin's texture for an overall radiant complexion"
NARS is available from: Nordstorm, Selfridges,  Bloomingdales, Neiman Marcus, Space NK UK.