One of the reason that I love Fashion Weeks is that we get a preview of the  new makeup collections! Like did you know that  NARS is launching TRIO eye shadows and a tinted moisturizer? So here are several looks which were created with NARS products including some pieces from their Holiday 2010 and Spring 2011 collections.
NARS Cosmetics for  Sophie Theallet SS2011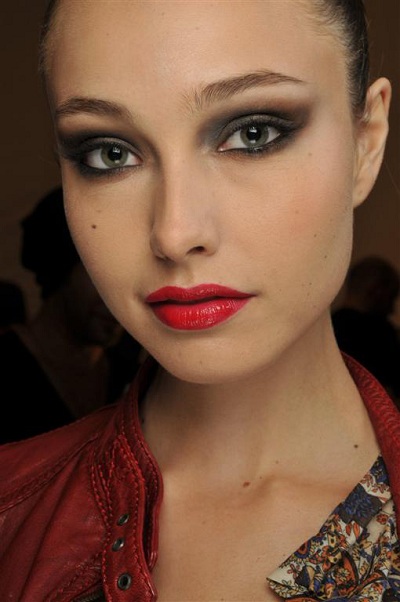 LEAD ARTIST: Lena Koro, NARS International Makeup Artist
TREND: Smoky eyes and glossy red lips
INSPIRATION & LOOK: "We wanted to fuse together both color and light. We were inspired by Chavela Vargas, the Mexican singer," said Lena Koro. "Polished and bright- and coinciding with the prints of the clothing."
Face:
NARS Pure Radiant Tinted Moisturizer (for now-try a light application of NARS Sheer Glow Foundation)
NARS Deep Throat Blush
Eyes:
NARS Calanque Trio Eyeshadow (NEW for Spring 2011! For now try Edie Eyeshadow)
NARS Cordura Duo Eyeshadow
NARS Tzarine Duo Eyeshadow
NARS Okinawa Trio Eyeshadow (The black side; NEW for Holiday 2010! For now try Black Moon Eyeliner Pencil)
NARS Larger Than Life Lengthening & Volumizing Mascara
Lips:
NARS Vesuvio Pure Matte Lipstick
NARS Triple X Lip Gloss
NARS Cosmetics for e 3.1 phillip lim SS2011


LEAD ARTIST: Lisa Butler for NARS Cosmetics
TREND: Nude lips and sculpted cheeks
INSPIRATION: "The looks are best described by saying they have the spirit of a modern female dandy- city girls in their strength but subtly whimsical," said designer Phillip Lim. "Each girl is elegant with a sense of buoyancy."
LOOK: "Youthful elegance was what we were aiming for," said Lisa Butler about the look. No shine…polished, radiant skin "with dimension through sculpted cheeks."
Face:
NARSskin Brightening Serum
NARS PRO-PRIME Pore Refining Primer (NEW for Spring 2011- for now, try NARS PRO-PRIME Skin Smoothing Face Prep)
NARS Sheer Glow Foundation
NARS Duo Concealer
NARS Madere Pure Matte Lipstick (NEW for Spring 2011- for now try Bangkok Pure Matte Lipstick) mixed with NARS Barbarella Lipstick for the cheeks.
Eyes:
NARS Eyebrow Pencils (for sculpting and defining eyes)
NARS Hollywood Land Soft Touch Shadow Pencil (NEW for Spring 2011! For now, try Goddess Soft Touch Shadow Pencil)
NARS Brumes Duo Eyeshadow
Blondie Single Eyeshadow
Bali Single Eyeshadow
NARS Larger Than Life Lengthening Mascara
Lips:
NARS Madere Pure Matte Lipstick (for now, try NARS Bangkok Pure Matte Lipstick)
NARS Cosmetics for Marc Jacobs SS11


LEAD ARTIST: François Nars, Founder & Creative Director of NARS Cosmetics
TREND: Glossy green eyes & deep matte lips
LOOK & INSPIRATION: "The look is very reminiscent of Angelica Houston in the 70s-the bleached brows and the deep eyes," said François Nars. "I wanted them to look like iconic models from the 70s with a modern approach. Marc had images of what he wanted the makeup to look like – mimicking the colors of the clothing but not matching exactly."
Face:
NARS Pure Radiant Tinted Moisturizer (NEW for Spring 2011-for now try a light application of NARS Sheer Glow Foundation)
NARS Orgasm Blush
Eyes:
NARS Night Porter Eyeshadow
NARS Nouveau Monde Duo Eyeshadow (NEW for Spring 2011-for now try the olive side of Earth Angel Duo Eyeshadow)
NARS Celebrate Soft Touch Shadow Pencil (New for Spring 2011-for now try the green side of Rated R Duo Eyeshadow)
NARS Larger Than Life Volumizing Mascara
Lips:
NARS Volga Pure Matte Lipstick
NARS African Queen Lip Liner Pencil
NARS Mambo Eyeliner Pencil
All information and photos from NARS