If you are a fan of Bourjois Healthy Mix foundation (and I am) you'll be happy to find out that there are 2 new foundations in the Healthy Mix range. I've spotted this information at Bourjois Facebook page and I am happy to share with you.
I like the promo photo. The girl looks so healthy and pretty.
So after the success  of Healthy Mix Foundation and Concealer Bourjois created the new Healthy Mix Serum Gel and Healthy-Glow Foundation..
Healthy Mix Healthy-Glow Foundation is a loose powder which formula is  claimed to be 96,8% natural. "It blends perfectly into the skin and gives you a matte finish, it brightens the complexion in one simple step."
There  should be 2 shades:
51 – pale and medium skin
56 – dark and tanned skin
Healthy Mix Serum contains the extracts  of lychee, goji and pomegranate.  And it is promised that it should be very light and  should make the complexion look fresh and beautiful, the effect is promised to  last for 16 hrs. "Plus + 69% brightness in 4 weeks of use!"
There is also a new Kabuki brush from goat hair which will retail for €10.50 in France.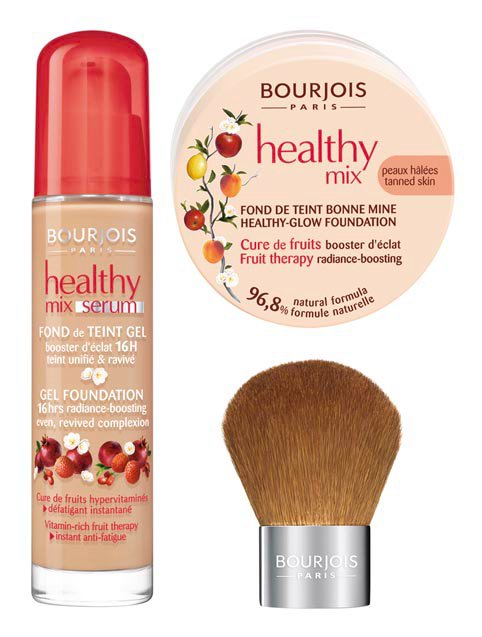 I am excited about the Gel foundation and would really love to try it!