I wanted to get something luxurious for my body the other day and I've decided to try something from Omorovicza as I've heard nothing but good things about the brand.
I've decided to get a Gold Shimmer Oil which looks like this before you shake it well to mix the oil with the shimmer.
And here is how it looks like after…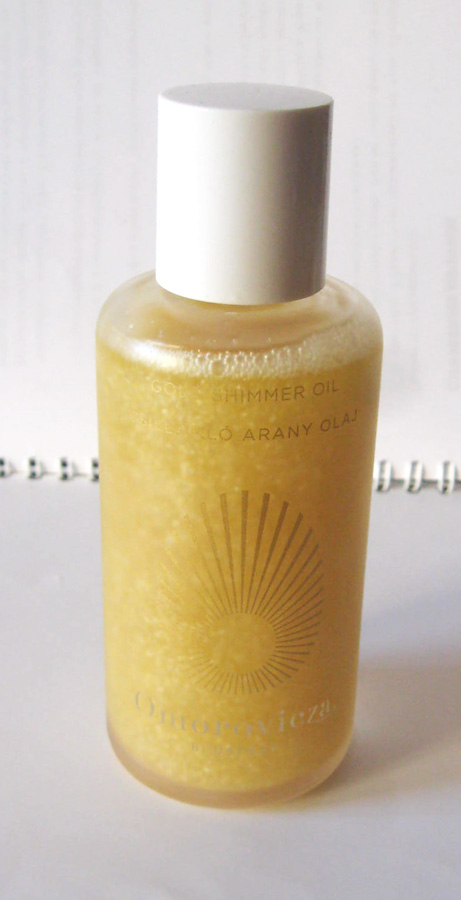 This oil comes in a nice glass bottle with an elegant minimalistic design. As for the oil itself -it smells amazing (I think it's mainly calendula), absorbs quickly and leaves the skin feeling moisturized, soft and smooth. It is a perfect product for summer as it gives an amazing glow on a tanned skin. I absolutely love  using it on my arms and legs, it gives a beautiful illuminating/ glamorous (if you prefer) effect.
Here is the list of the ingredients and extended information about some of them from the official website:
Gold, a powerful anti-inflammatory, heals accumulated micro-damage and strengthens the skin. Apricot kernel oil, rich in vitamin A, softens the skin. Rice germ oil supplies essential nutrients to the skin. Calendula oil heals and repairs the skin. Tocopherol, or vitamin E, boosts the production of collagen and provides anti-oxidant defence against free radicals. Carrot oil, rich in pro-vitamin A, boosts the production of collagen.
The only thing that I dislike is that there is no pump and you can get way too much out of the bottle. This oil is just too expensive to waste it like that. Plus if you drop it (the bottle) – most likely it will be the end…
I've tried to capture the effect on my skin, hope this will give you the idea of  what to expect.
This is an expensive product which retails for £52/€65 for 100 ml but if you want a beautiful and luxurious body oil, this one is definitely worth it in my opinion. I love mine very much and I can't wait to try more products from Omorovicza.  But as it is so pricey, I will have to wait for a special occasion…
PS. This Oil also won Harper's Bazaar beauty award this year which is one more reason to check it out.
Buy it from Selfridges, Cult Beauty,  Sephora,  Nordstrom,  Net a Porter.