As you may know, Rouge Bunny Rouge recently launched their first fragrance collection which includes three eau de parfums.
I am lucky to have samples of all three and I like that you get generous 2.5 ml which is enough to decide whether or not you like the scent.
So here is my impression about them and please keep in mind that I am not a perfume expert, by any means.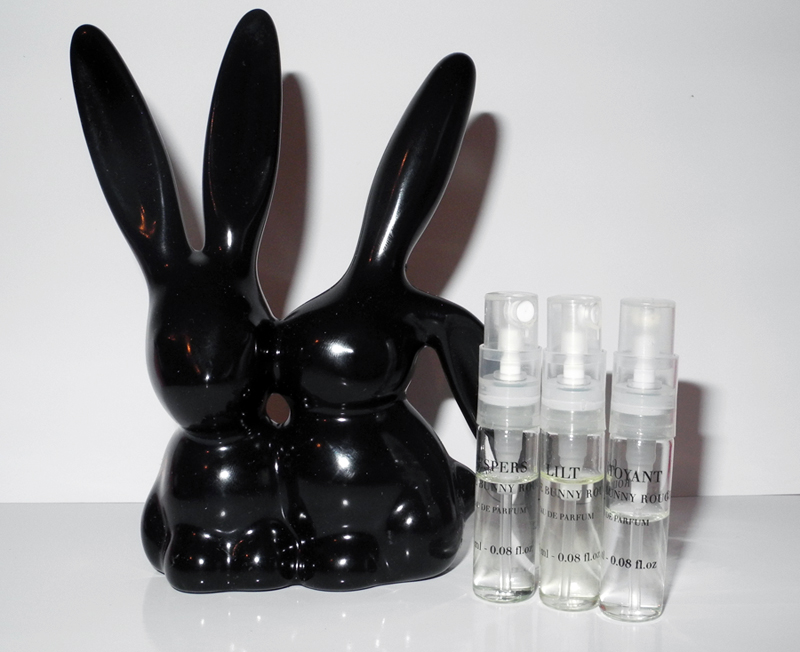 I was originally drawn to  Chatoyant (Top: Bergamot, Lemon,  Heart: Orchid, Jasmine, Rose, Lily of the Valley, Base: Sandalwood, Cedarwood, Musk, Vanilla).
I think that it's the combination of flowers and citrus notes that I like so much. I can definitely pick  lily of the valley and rose notes, but at the same time, I can definitely smell lemon and bergamot, it is perfectly balanced.  It smells even better when it dries down, vanilla, which is not overpowering in this case, sandalwood and musk make it even I can definitely see myself wearing this fragrance a  lot.
The next one is Lilt (Top: Green Leaf Accord, Fig Leaf, Heart: Peach, Coco, Violet, Base: Vetiver, Musk).
At first I did not like this one that much but now I love it!  It opens with fresh, dry and green fig notes.  After a while I can definitely smell peach mixed with vetiver. I was afraid that I wouldn't like it because of coco. But, I think coco actually keeps it from being too bitter.  When I wear this fragrance I imagine early Spring or a garden at storm, Lilt is a gorgeous fragrance and I am not sure why I did not "get it" at first.
There is also Vespers (Top: Bergamot, Cinnamon Bark, Violet Leaves, Black Pepper, Heart: Green Apple, Muguet, Rose, Violet, Base: Cedarwood, Musk, Sandalwood, Vanilla).
This is my personal least favourite. And while I can  definitely see myself getting  the first two fragrances in a full size, I would not get this one. Although I believe that this scent will be loved by a lot of women, in fact, some of my friends did like it.
I am not entirely sure what notes don't work for me, probably  the combination of violet, pepper and cinnamon,  but all I know is that fragrance is a very personal experience and Vespers is just not my type, I guess. I can tell that it is a well made scent and I appreciate it but it doesn't fit me that well.
It was a great experience trying the Rouge Bunny Rouge fragrance collection. I think that this launch was on a high level, as it always is with Rouge Bunny Rouge, all fragrances are well balanced and sophisticated, it is just a matter of personal taste  which one you prefer.
And have you tried Rouge Bunny Rouge perfumes? Which one is your favourite?