I already wrote about Guerlain's Fall 2009 collection. But here are all the details and swatches of all collection.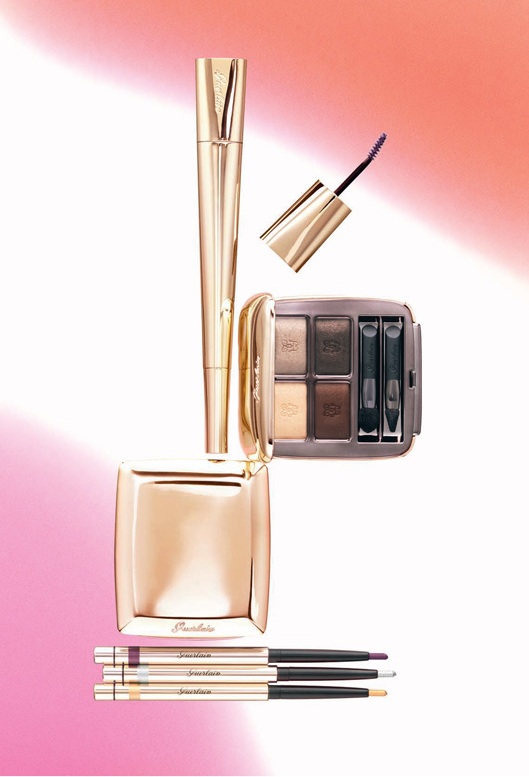 As Guerlain's muse, Natalia Vodianova inspired Creative Director, Olivier Échaudemaison to conceive a warm, bohemian-inspired colour collection for the Fall. Olivier calls Natalia "an icon of colour that brings energy and cheer when the nights are long and the skies grey, and when the days are short and the sun away." In effort to capture the radiance, warmth and richness that Natalia emanates, Guerlain offers a fall look defined by a fresh, smooth complexion, bright cheeks, eyes shimmering in a crimson glow and sparkling, rosy lips.
Eyes and Lips Palette "Volga Princess" $69
In sumptuous black-and-gold packaging, reminiscent of the emblematic ornaments of Slavic art, Guerlain has placed the perfect soft pink and delicate taupe shades for the eyes to accent two lip colours of rosewood and sparkling pink. This all-in-one palette is the perfect accessory for a quick, easy and elegant touch-up.
Ombre Éclat 4 Shades Eye Shadow $58
In celebration of the leading harmonies of late summer, beige, chestnut brown, bronze gold, and absolute dark brown in this palette evoke the enchanting ballet of autumnal leaves dancing in the wind. Worn separately or together, this new, permanent, four-color palette is the perfect assortment as it allows you to create a natural effect for the day time, and a more smokey effect for the evening.
441 Brun Mordoré
Ombre Éclat 4 Shades Eye Shadow 406 Tsarina $56
Faded orange, brick red, old rose and aubergine combine to create an intense, rich and enchanting palette inspired by the dresses worn by Russian princesses. Accented with a champagne motif, the shades are contained in an exquisitely designed black-and-gold compact and create eyes that are velvet-smooth with a crimson glow, highlighting their pure clarity.
Le 2 de Guerlain $35
The now famous Le2 Mascara comes in a new limited edition plum shade, to illuminate the eyes and give your makeup the final touch that will make all the difference.
Nuit 2 Bohème
Radiant Blush Russian Doll $42
Guerlain created Russian Doll, a liquid blush with a unique shade of luminous, sheer pink to generate natural radiance and give the cheeks a healthy glow. It captures the healthy, radiant look of a woman who has a returned from a brisk walk on a crisp afternoon. The kaolin-based formula gives the blush a creamy texture that is easy to apply and dries within seconds for a comfortable, lasting feel.
Rouge G de Guerlain in two Seasonal Shades $42
The symbol of the ultimate luxury in lipstick, Rouge G de Guerlain welcomes two new limited edition shades, in perfect harmony with this season's trends.
Graziella A pearly brick red
Giovanna A pearly raspberry pink
Retractable Eye Pencil $29
This new pencil comes with a built-in sharpener so you can achieve impeccable results every time you use it. It's a take anywhere tool with a soft, precise tip to facilitate perfect application, so you can easily define an intense almond-shaped eye. For the evening, apply with a darker eye shadow on the outer lid for a more dramatic effect.
Gold
Silver
Bohemian
Parure Compact Foundation $45
The Parure compact foundation collection with crystal pearls, evens out, mattifies and helps mask minor skin imperfections while adding radiance. With this new shade, Rose Intense, the skin appears radiant and the complexion, flawless.
14 Rose Intense
Available in August 2009
All swatches of the collection you can check here