I am very impressed with the new Stila collection for the holidays, so many amazing sets which would make a perfect gift. And I am even thinking about the blush and the BB creams sets for myself. :adds to wish list:
Everything is already out in the USA, so European shops should get these beauties soon, too.
Let's take a look.
Portrait of a Perfect Pout 
Neutral Lip: dreamy, delicate, demure, darling, divine, delightful
Vibrant Lip: hey baby, pink flamingo, rosy posy, sangria, siren, merlot
Portrait of a Perfect Blush: golden, illume, pretty pink, precious pink, rosé
Portrait of a Perfect Eye: parchment, organza, vintage, linen, antique, rosewood
All palettes above retails for $16 each.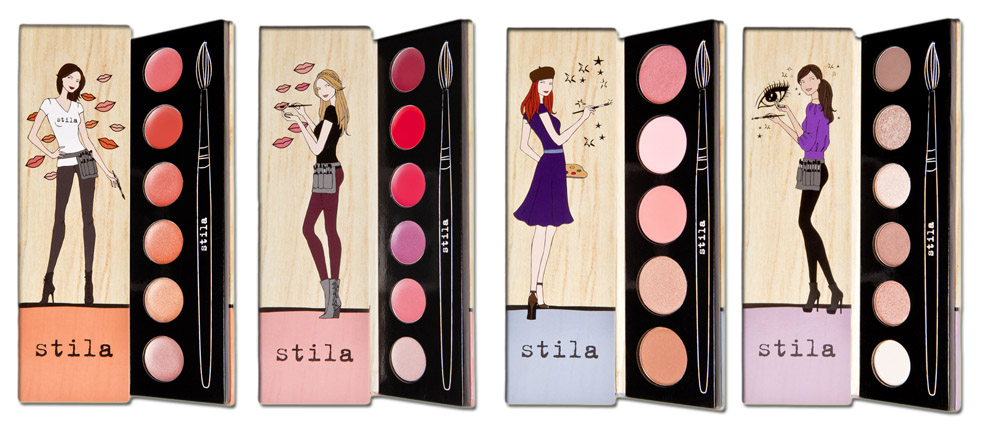 Color Me Glossy Lip Glaze Set ($28)
Contains 3 Lip Glaze Trios (9 Lip Glazes), so that you can keep to yourself a set and give two away (or whoever you wish): Reds, Pinks and Nude/Neutrals
Shades: cranberry, dazzleberry, passion fruit, persimmon, wildberry, kaleidoscope, melon, strawberry cream, amaretto
Masterpiece Series Eye & Cheek Palettes ($39)
Includes three paper-wrapped palettes containing 15 shades of eye shadows and 3 shades of blush.
 Volume I – The Minimalist
Eye Shadows: natural light, simplicity, elegance, subtlety, balance Cheek: harmony
 Volume II – The Impressionist
Eye Shadows: canvas, pastel, vision, watercolor, movement Cheek: parisian pink
 Volume III – The Modernist
Eye Shadows: glaze, avant-garde, mondrian, abstract, charcoal Cheek: nouveau
Included is a book of easy-to-use tips & tricks written by Stila's Global Executive Director of Creative Artistry, Sarah Lucero.
Tools of the Trade 5 Piece Luxe Brush Set ($28): brush #5 – all over shadow brush, brush #33b – concealer brush, brush #24 – powder brush, brush #9 – all over blend brush,  brush #4 – precision eye liner brush
 BB Try-Me Trio Beauty To Go ($24)
stay all day 10-in-1 hd illuminating beauty balm with spf 30
stay all day 10-in-1 hd bronzing beauty balm with spf 30
stay all day 10-in-1 hd beauty balm
 Color Me Pretty Lip & Cheek Palette ($28): kitten, peony, gerbera, rose, petunia
Color Outside The Lines Smudge Stick Waterproof Eye Liner Set ($34)
Stila's best-selling Smudge Stick Waterproof Eye Liners:  emerald (green),  navy (blue), aubergine (burgundy), stingray (black), lionfish (brown)
And which set do you like?