Don't you just love the idea of having most of the products you need to create a look with in just one palette? How convenient that is. Luckily, Stila and Charlotte Tilbury got us covered, both brands released those gems.
Stila brought out four Perfect Me, Perfect Hue Eye & Cheek Palettes with 5 eye shadows and 2 blushes each. They are created for  different skin tones, as the name suggests.
Fair/Light Palette
Eye Shades:  Alluring (soft pale pink), Breathtaking (soft neutral white), Passionate (champagne pearl), Dynamic (soft taupe), Glamorous (warm chocolate brown)
Blush Shades:  Romantic (soft pale pink), Playful (soft rose pink)
Light/Medium
Eye Shades:  Artistic (neural beige), Dazzling (vanilla), Ambitious (midtone brown with gold pearl), Spontaneous (brown with berry undertones), Mischievous (black brown)
Blush Shades: Charming (true cool pink), Angelic (neutral warm rose)
Medium/Tan
Eye Shades:  Curious (soft nude), Captivating (neutral champagne), Daring (deep rose with gold pearl), Feisty (midtone red brown), Magnetic (deep plum)
Blush Shades: Inspiring (coral brown), Mysterious (neutral peach)
Tan/Deep Tan
Eye Shades: Imaginative (peach), Brilliant (wheat), Adventurous (copper), Flirty (deep warm brown), Mesmerizing (black)
Blush Shades: Vibrant (deep peach), Witty (brick red)
Stila is available from  Feel Unique and Sephora. The price is £28/$39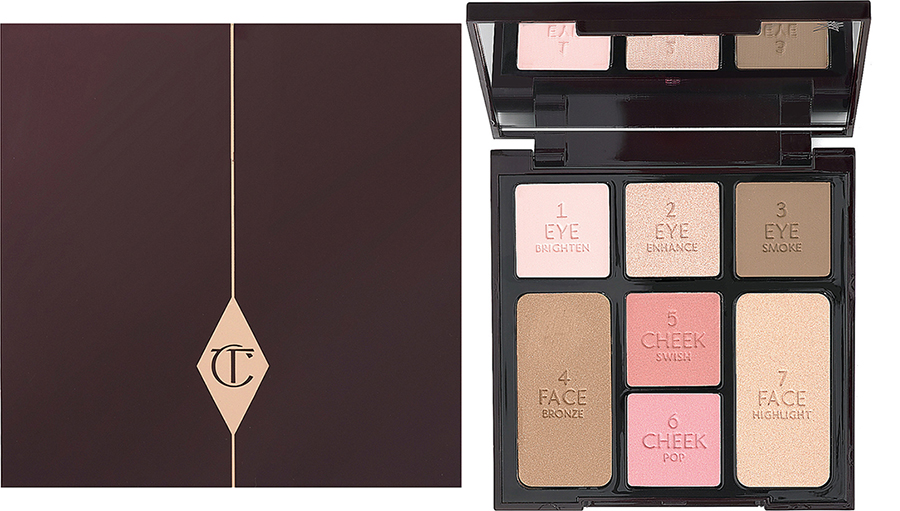 As for Charlotte Tilbury, there is one palette which, according to Charlotte, is suitable for all skin tones, she even released videos to demonstrate that.
Insnant Look in a Palette includes: Eye Brighten ( primes the lid), Eye Enhance ( illuminates the inner-corners of the eye and brow bone), Eye Smoke (adds definition and drama to the crease), Face Highlight in Candlelight, Cheek Pop Blusher, Cheek Swish Blusher, Face bronze.
You can buy Charlotte Tilbury from Nordstrom, Bergdorf Goodman, Selfridges and Harrods. The price is £49.