We already talked about one of the summer/bronzing collections which was Guerlain's Sun in the City Terracotta 2012 and now it's time to take a look at Estee Lauder's Bronze Goddess Capri collection.
Here is the promo photo and I love the golden skin tone and the golden bikini.
I actually love my light complexion in winter but I've started using some fake tan ( I LOVE Xen Tan) recently, I guess after looking at too many summer promos 🙂
Anyway, here are the products from the collection. Unfortunately, I don't have the GBP/EUR prices yet, so only USD so far.
 Bronze Goddess Luminous Liquid Bronzer, $28.50
Sheer, pearlized radiance Long-wearing, oil-free
 Pure Color Illuminating Powder Gelée, $42
A bronze, all-over
I absolutely love this ArtDeco collection and would like to get quite a few products for myself (if not all of them). I love the turquoise, cobalt, green, gold and borze shades. Perfection!
Collection includes:
Bronzing Powder Compact ART DESIGN 11
Water-repellant bronzing powder with SPF 15
Sun Glow Bronzing
Sunset Bronzing
Travel Kabuki
Kabuki brush for Bronzing Powder Compact SPF 15 as a travel size
Beauty Box Trio "Aqua Glow Bronzing"
Magnetic box for eyeshadows/blusher in limited design
Beauty Box Duo "Aqua Glow Bronzing"
Magnetic box for eyeshadows in limited design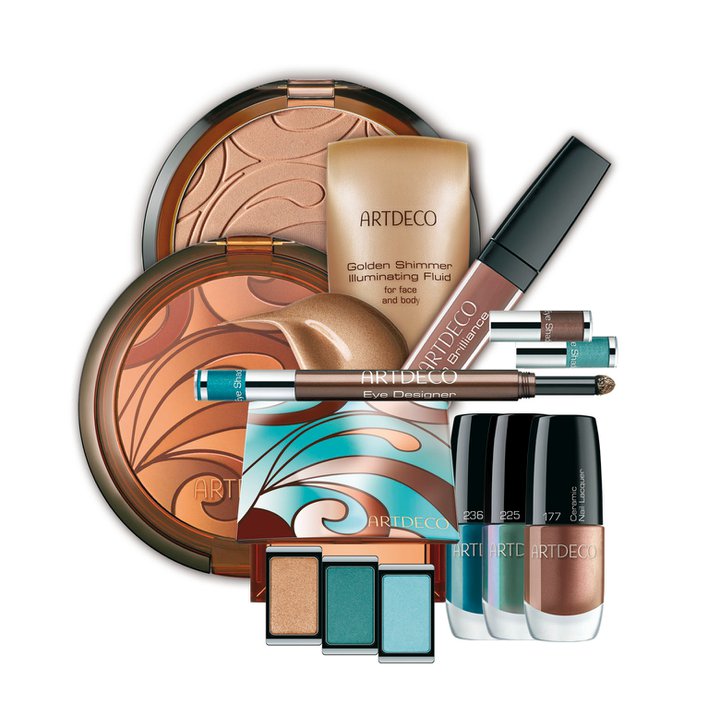 Eyeshadows – duocrome (powder eye shadows in iridescent duocrome colours) and pearl(powder eyeshadows in shimmery pearl shades)
12 Chocolate Cake
25 Beach
57 Tropical