So, here is a preview of the new Clarins palette and amazing value sets for Christmas.
First of all, they released a Mineral Eye Make-Up Palette with ten natural shades which retails for £35. And it's about time!
There are also a lot of value beauty and makeup sets to choose from. I personally have a tradition of getting at least one Clarins set each year. At least this is what I did for the last three years. It's a great opportunity to try the brand's products if you are not familiar with Clarins. Or to stock up on your favourites, while saving money, which is my case.
I think I will get HydraQuench set this year, as I am a die hard fan of the line and am running out of  the serum and cream already.
I have reviewed tonnes of Clarins products over the years, so you can take a look if you are curious about any.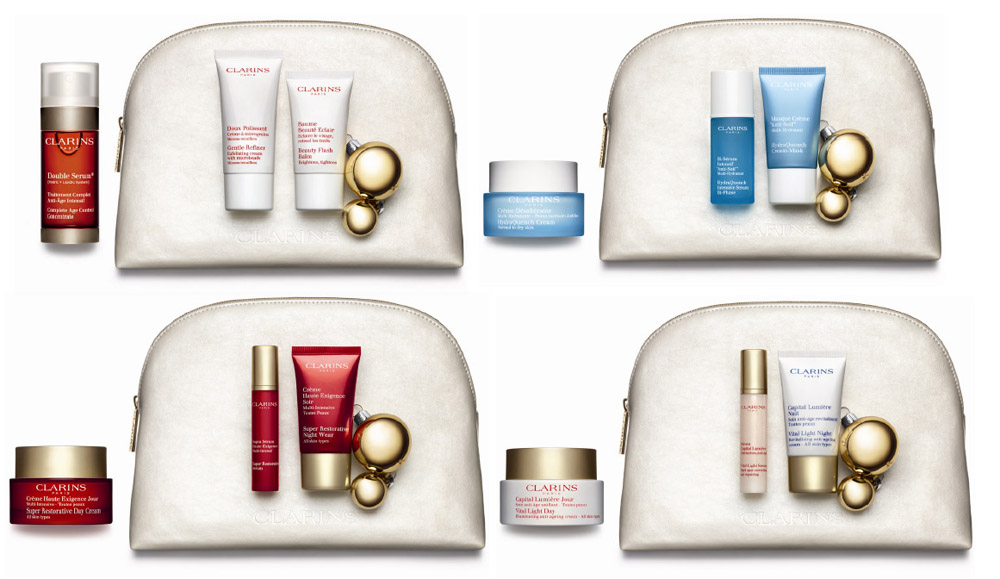 Anti-Ageing Must-Have Collection Youth-Boosters
Retail Price: £55.00 Customer Saving: £23.70
Double Serum 30ml
Gentle Refiner Exfoliating Cream 30ml
Beauty Flash Balm 15ml Retail
 HydraQuench Collection Moisture Must-Haves
Retail Price: £34.00 Customer Saving: £27.10
HydraQuench Cream AST 50ml
HydraQuench Intensive Serum Bi-Phase 15ml
HydraQuench Cream-Mask 15ml
Super Restorative Collection Skin Replenishers
 Retail Price: £66.00 Customer Saving: £46.00
Super Restorative Day Cream AST 50ml
Super Restorative Serum 10ml
Super Restorative Night Wear AST 15ml
Vital Light Collection Skin Illuminators
Retail Price: £60.00 Customer Saving: £38.57
Vital Light Day Cream AST 50ml
Vital Light
You may have noticed that I am a huge fan of Clarins, especially their skincare 😉
And I am actually excited about their skincare sets for this Christmas! There are actually some  sets and a lot of skincare sets but I want to show you my picks.
Clarins Daily Energizers Radiance Booster Collection , £20
Clarins Daily Energizer Cream 30ml
Clarins Daily Energizer Cleansing Gel 30ml
Clarins Daily Energizer Wake-Up Booster 30ml
I have got myself this set last year and was very happy with it, see my review here. Plus it is also an excellent value for money!
Clarins Gorgeous Getaways Face and Body Essentials, £44.10
Beauty Flash Balm 50ml, read my review here.
Hand and Nail Treatment Cream 100ml, read my review here.
One-Step Gentle Exfoliating Cleanser 75ml
Moisture-Rich Body Lotion 100ml, will write a review soon.
Foot Beauty Treatment Cream 30ml
HydraQuench Intensive Serum Bi-Phase 15ml, will write a review soon.
I really wanted to get this set last year but somehow never did, so will have to do it now! I am already a big fan of Flash Balm and HydraQuench Serum. I also like the hand cream and body lotion  so would like to try the foot cream and the cleanser, too.
Clarins HydraQuench Moisture Must-Haves Collection , £30.15
Clarins HydraQuench Intensive