When I was browsing Bobbi Brown's website and wondering what should I get today I've noticed this palette and now I want is so much! (not for myself of course)
BBU Palette by Bobbi Brown, $250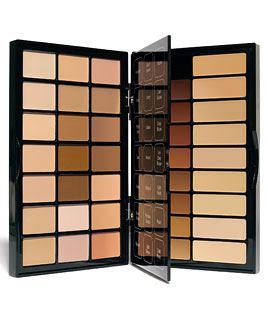 For The Pros! This palette was inspired by the hand-filled palettes used by Bobbi & top artists at photo shoots and fashion shows. Includes Bobbi Brown Correctors, Creamy Concealer, and Foundation Stick plus an empty well for mixing shades. INCLUDES: 9 shades of Corrector for extra dark circles, 12 shades of Creamy Concealer for average undereye darkness, and 17 shades of Foundation Stick to give skin a smooth, even finish. Corrector (.04oz./1.2g each); Concealer (.03 oz./ 1.1g each); Foundation Stick (.05 oz./ 1.7g each).
I wanted to find out how it looks like in real life and I found some photos at this beauty blog from Norway. By the way, I liked the blog so much that now I'll be sure to check it out more often!
So what do you think? Would you get it? What is your favourite corrector and concealer? I am still looking for the perfect one!
As for the foundation – now I really love using Second Skin foundation by Max Factor. When it comes to primer I love Satin Primer by Illamasqua(£18.00).  I will write a review about this one soon!
In 2002 Chanel realized vitality Foundation milk (VITALUMIÈRE) collected and vitality, moisturizing, protection, multi-nourished aspirations ahead of the market of light reflection technology so far has been listed on Chanel's best-sellers. In 2009  meet  this products by Chanel again! Moisturizing Powder (VITALUMIÈRE ÉCLAT) with  Skin Consealer (VITALUMIÈRE ÉCLAT).
The key lies in a unique R & D Technology  ultimate light-sensitive compound (Radiance Light Diffusing Complex)! In addition to excellent effect of controlling light, while giving the skin comfortable, soft touch, the initial use, the infinitely soft touch of the skin condition immediately upgrade, clearly visible. More specifically, this unique light technology to use sponges and brushes simultaneously, by two different power with the creation of a dual-looking results!
Extreme light perception compound technology (Radiance Light Diffusing Complex):