The list of my favourite makeup products  of 2012  was too long already for me to include nail products, too.So here is a separate one.
I've decided to be very strict with myself and choose only two nail polishes, one for SS and the other for AW as, otherwise, I would just go on, and on…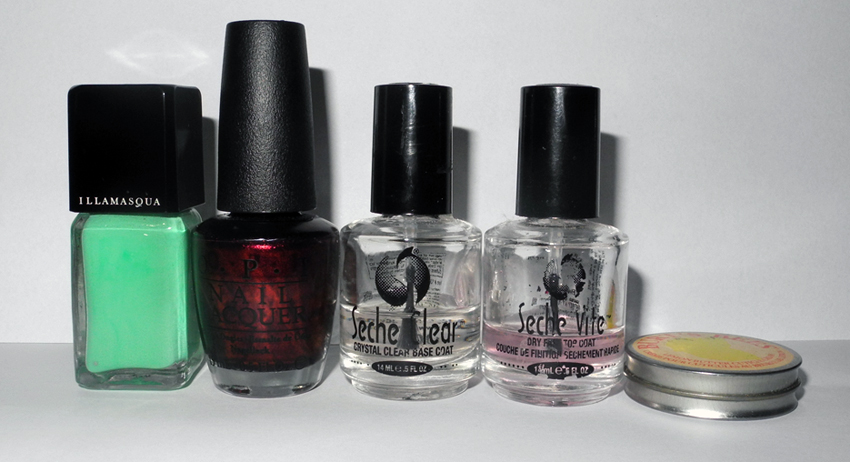 OPI Every Month Is Oktoberfest
This is a gorgeous colours, when I saw the promo photo, I knew I had to get it. But when I saw the first swatches on-line, I've ordered it as soon as it was available.  OPI have a lot of beautiful complex dark nail polishes and Every Month Is Oktoberfest  is one of them. I wear mine a lot, in fact, I have it on as I type. See it on my nails here.
 Illamasqua Nail Varnish in Nomad
And this was my favourite SS nail polish, such a perfect jade colour. There are a lot of  variations of jade from different brands, but I think this is my favourite.  Plus I am a big fan of Illamasqua's nail varnishes. By the way, I had it on my toes during my summer holiday. And here is manicure with this shade.
As for other products, I have to mention
The other products that I really loved from the Burt's Bees set that I've bought last winter, besides the Radiance Day Cream, is the Lemon Butter Cuticle Cream.
I totally forgot to take a photo when I've got it so you can see how well used is mine.
Although I have  read mixed reviews about this product I personally really like it. To tell the truth, my cuticles are not in a very bad condition to begin with so this butter works just fine. I also love using it on my nails just after I remove the nail polish.
This lemon butter is