The list of my favourite makeup products  of 2012  was too long already for me to include nail products, too.So here is a separate one.
I've decided to be very strict with myself and choose only two nail polishes, one for SS and the other for AW as, otherwise, I would just go on, and on…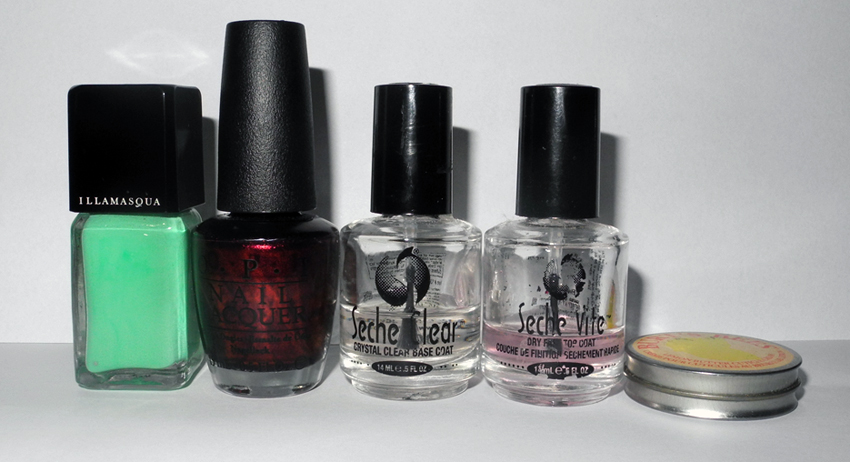 OPI Every Month Is Oktoberfest
This is a gorgeous colours, when I saw the promo photo, I knew I had to get it. But when I saw the first swatches on-line, I've ordered it as soon as it was available.  OPI have a lot of beautiful complex dark nail polishes and Every Month Is Oktoberfest  is one of them. I wear mine a lot, in fact, I have it on as I type. See it on my nails here.
 Illamasqua Nail Varnish in Nomad
And this was my favourite SS nail polish, such a perfect jade colour. There are a lot of  variations of jade from different brands, but I think this is my favourite.  Plus I am a big fan of Illamasqua's nail varnishes. By the way, I had it on my toes during my summer holiday. And here is manicure with this shade.
As for other products, I have to mention Burt's Bees Lemon Butter Cuticle Cream
I like it as I can it is moisturizing enough but at the same time  I don't have to wait for a long time before it "soaks in" so that I  can continue doing whatever I am doing.  Read more about it.
Please share your favourite cuticle butters or oils, I'd really like to try new products in 2013.
As for top and base coat, I've been using Seche Vite and Seche Clear.You can read my post about both products here.
I have been using Seche Vite for years now. But would like to get Nubar Diamont Seal & Shine Topcoat, as a lot of nail polish lovers swear by it! As for base coat –  I will be picking Orly's Bonder and OPI's Nail Envy.