Before I start, I have to say that it was very hard to narrow my list  of favourite makeup products of 2012 but I've tried my best.
Let's take a look at what I've chosen…
Face
Benefit Erase Paste
I don't really use concealer on a daily basis, unless I have a new, really bad spot,  I just use Touche Eclat under my eyes and that's all. But if I had to choose my favourite "concealer" type of product – that would be this one. It is a creamy peach corrector which works great for the  dark under eyes circles. I had a review of it but because of some tech problems, it was deleted, need to re-write it soon.
Omorovicza Complexion Perfector BB SPF 20 
One of my favourite face products you can read the details why here. If you can afford it, I would definitely recommend.
Rouge Bunny Rouge Tinted Moisturiser Sketches on Water
This gives a very natural finish and light coverage and you can't see it on the face, at all! Miracle for dry skin in cold weather, as it doesn't enhance any dry patches.  See all the shade available here.
Daniel Sandler Invisible Radiance Foundation and Concealer
It is a very nice foundation that gives a dewy finish so works great for my dry skin. The shade Porcelain is a great fit for fair skin and works for me in AW, in SS, I use the second lightest shade – Beige. Plus it comes with concealer which is a great deal for the price. Want to know more?
BECCA Shimmering Skin Perfector in Pearl
This product probably doesn't even need an introduction. It's the best highlighter out there, it gives a  very natural and beautiful effect.
Cheeks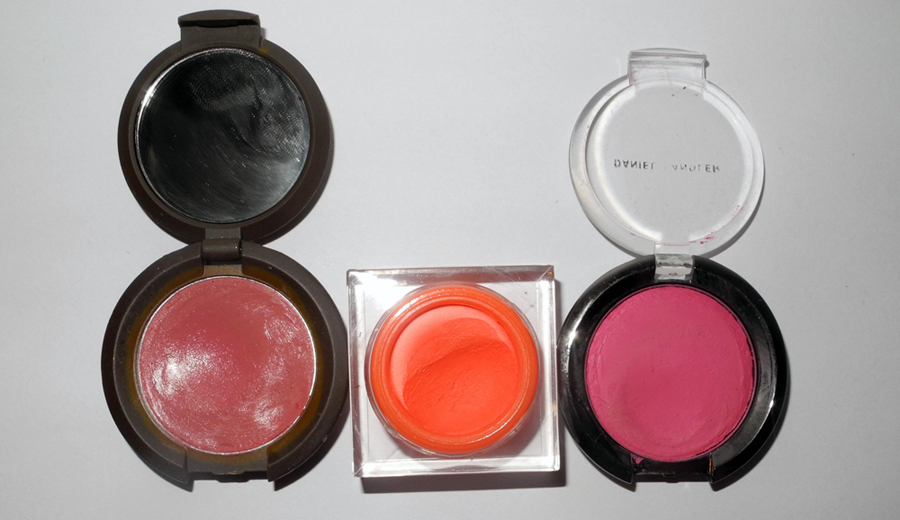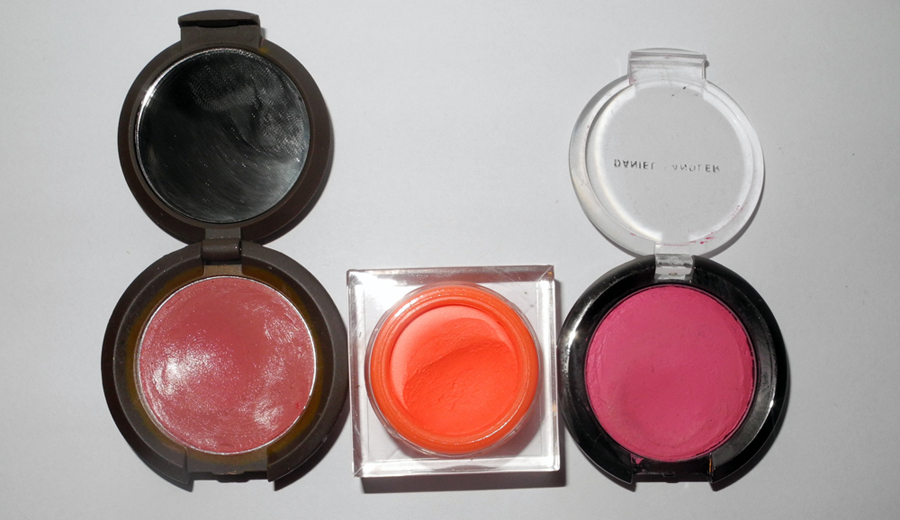 Wow, I was able to choose only three blushers, although I was very tempted to add more of them.
BECCA Cream Blush in Amaryllis 
My favourite blush for AW months, perfect cool toned and natural looking, gives a nice flush. See the swatch.
YSL Creme de Blush in 4 Audacious Orange
Gorgeous cream-to-powder bright orange for Summer, looks beautiful on tanned skin. Here it is with comparison to other orange/coral blushers.
Daniel Sandler Watercolour Creme -Rouge Blusher in Hot Pink
I love a bright pink in Spring, it brings life back to my face, after the cold months, just what I need. PS. I LOVE winter actually.
Eyes
Burberry Complete Eye Palette in Pink Taupe
One of my favourite makeup releases of the year, these eye shadows have a very high quality. Find out more about them.
Benefit Instant Brow Pencil Review in Medium
I have almost finished this eye brow pencil and so far it has been the best one I've had.
New CID i – colour Long-Wear Cream Eyeshadow in Chocolate Opal
I love cream eye shadows a lot and this one, with a light mousse texture, really impressed me.
Inglot Eye Shadows AMC Shine 37 and Rouge Bunny Rouge Long Lasting Eye Shadow in Bejewelled Skylark, I have been going on and on about these two eye shadows a lot, so if you are a regular reader, I am sure that you are not surprised to see them here.
The same goes for Anastasia's Genius Top Coat. I already have a second tube, it's a must have product for me.
As for mascaras, my favourites would be: Dior DiorShow Extase Mascara (not pictured, as I don't have it anymore) for thick black lashes and  Clarins Instant Definition Mascara Intense Plum a dark plum mascara.
And of course, the eye pencil that I use on a daily basis, my all time favourite – Lancome Le Crayon Khol in Brun Noir.
Lips
 Lancome L'Absolu Rouge in 160 Rouge Hypnose
My favourite red of the year, I wore it a lot, beautiful formula and shade.
ArtDeco Art Couture Lipstick Velvet in 645 Demoiselle by Dita von Tees
Amazing pick-me-up fuchsia shade, opaque with one shade. See me wearing it.
Dior Addict Lipstick 561 Baby Rose
I don't really do nudes, as they drain the colour out of me, so this is my perfect every day colour. Subtle shimmery baby pink.
Clarins Instant Light Natural Lip Perfector 01 Rose Shimmer and 03 Nude Shimmer
These are still my favourites, they are everything I want from a gloss and I am excited about three new shades (will be out this year), too.