I have got some products from Dita von Teese The Classics makeup collection from Tender Loving Skincare (they ship Internationally for £5) to show you.
ArtDeco is the brand of my teenage years and I still love it a lot.  It is affordable, has a great selection and the German quality is superb. Even  now, when I can afford more expensive brands, I do get some of their products from time to time.
I have been wearing these products for a week and do like them all but today I want to tell you about the lipstick. It is actually the best-selling item from the collection (I am not surprised).
The shade that I have is Dita Von Teese Art Couture Lipstick in  645 Demoiselle (£18.50).
I already have some red ArtDeco lipsticks from the same line (not the Dita ones) so I was nice to try a fuchsia one.
Although this lipstick is priced almost as some luxury lipsticks, it is worth it in my opinion. The design does look classy and chic. Definitely the kind of packaging I'd be proud to pull out of my makeup bag.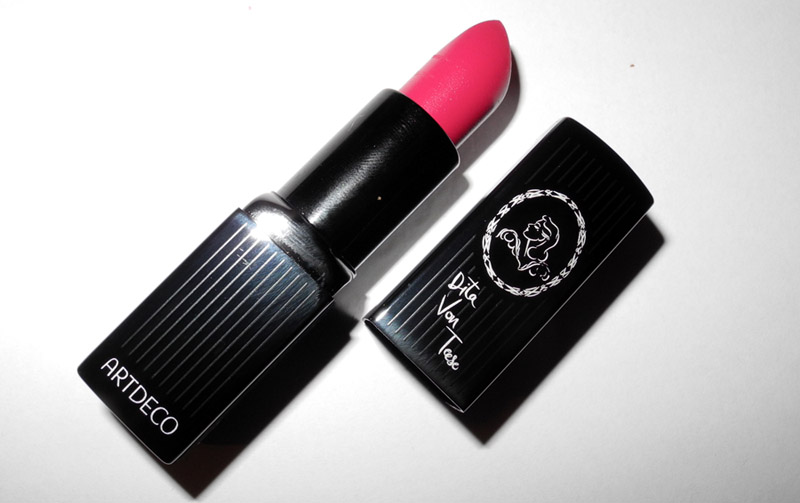 The lipstick itself is  seriously fantastic. It gives an opaque coverage with one layer, but I personally use two thin layers to make it last for a longer time. And it does last for hours without smudging, fading or getting duller.
I don't find it particularly drying but I do use the lip balm after wearing this lipstick for hours.
Demoiselle has a beautiful satin finish and it is a shade which does make a statement! In real life it actually looks a bit deeper and brighter…
I would definitely recommend these lipsticks, they are indeed glamorous and Dita Von Teese & ArtDeco did a great job on the collection. I am pretty sure she would not put her name on some mediocre beauty products as she does have a style.
For those who are interested in similar shades, the one the I have is this Rimmel Kate Moss #2 lipstick which I love as well.