I always thought that waterproof top coat for mascara would be a genius invention  and would be a fantastic product to have. So when I was asked if I'd like to try the new Anastasia Lash Genius Waterproof Mascara Top Coat  I agreed, of course!
But before I start the actual review I have to say that people who created the campaign for this product did an amazing job. The booklet is so well done and the ideas are brilliant!
The point is basically that your lashes will look perfect in any situation. Below you can see a shot of one of my favourite images – the 'Movie Moment'.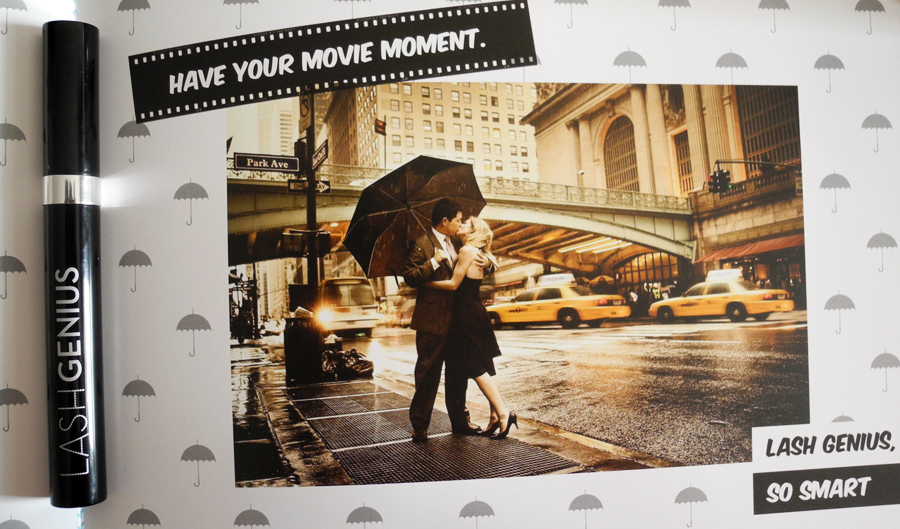 I have been using this  product for several weeks and I am happy to report that it does work!
It is basically a clear top coat that doesn't make your lashes look clumpy, hard, plastic looking or glued together. I have used it on several mascaras and the effect looked the same on each one of them.
When I don't get enough of sleep (like most of the time) my eyes are really watering so I often find my mascara all over the place but Lash Genius helps a lot with it. Plus it makes the mascara last for the whole day.
I personally don't like the idea of using a waterproof mascara on a daily basis for a lot of reasons so Lash Genius is just what I needed!
The bonus about this products is that it's not hard to remove it in the evening, just like your regular mascara. I am currently using the eye makeup remover from Garnier.
It's great to have Lash Genius for a personal use and for a professional kit! So,yes, this is yet another great product from Anastasia.
Lash Genius will be available from Sephora from May for $21. I hope cultbeauty.co.uk will also stock this product!