Tag: Dita Von Teese beauty
I have got some products from Dita von Teese The Classics makeup collection from Tender Loving Skincare (they ship Internationally for £5) to show you.
ArtDeco is the brand of my teenage years and I still love it a lot.  It is affordable, has a great selection and the German quality is superb. Even  now, when I can afford more expensive brands, I do get some of their products from time to time.
I have been wearing these products for a week and do like them all but today I want to tell you about the lipstick. It is actually the best-selling item from the collection (I am not surprised).
The shade that I have is Dita Von Teese Art Couture Lipstick in  645 Demoiselle (£18.50).
I already have some red ArtDeco lipsticks from the same line (not the Dita ones) so I was nice to try a fuchsia one.
Although this lipstick is priced almost as some luxury lipsticks, it is worth it in my opinion. The design does look classy and chic. Definitely the kind of packaging I'd be proud to pull out of my makeup bag.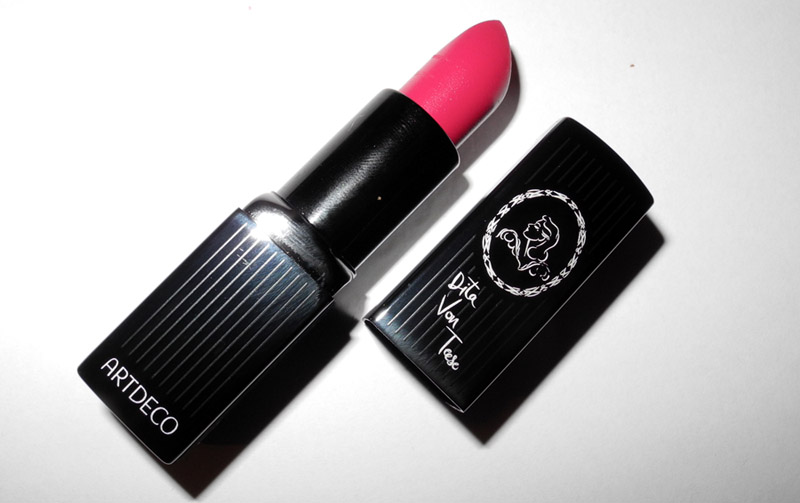 The lipstick itself is
I really  love the Dita Von Teese Classics makeup collection for ArtDeco as every girl can find the beauty products for the ultimate glamour in it.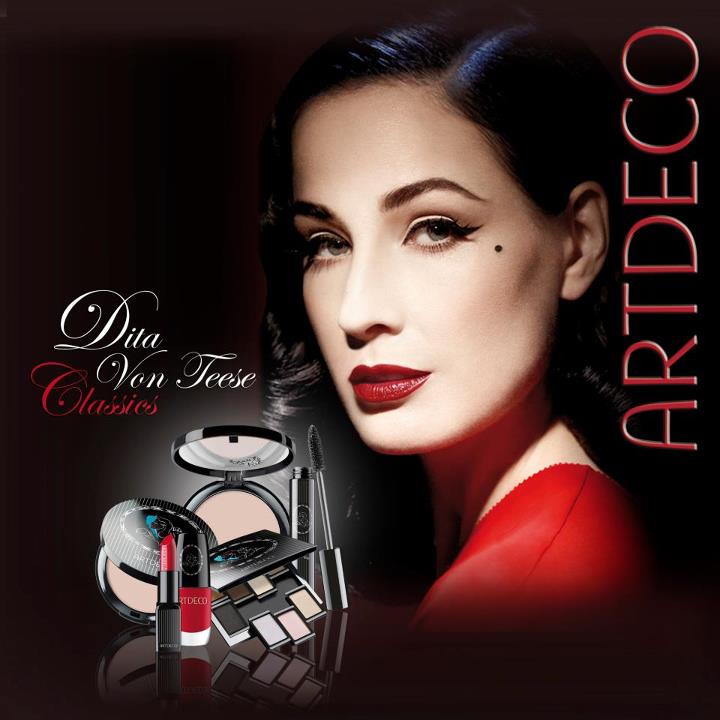 Dita's words prove one more time that you can 'create' your image and look how you want. Makeup is a great way to transform the way you look and it is so much fun!
"The truth is that I'm quite an ordinary looking girl. When I was a little girl, I remember watching classic Hollywood films from the 40s and noticing that these glorious women were painted that way. Glamour is about of creation, and any woman who desires it can learn to create it for herself as I have. I believe that makeup has the power to transform an ordinary woman into an extraordinary one." Dita Von Teese
http://www.youtube.com/watch?feature=player_embedded&v=-hpAvHOQMXQ
Here are the products from the collection:
Eyes
"For glamorous eyes, I begin with an ivory, white or pale toned eyeshadow over the entire lid and browbone with a flat brush, leaving the crease bare. Next I use a more pointed, full shadow brush to emphasize the crease with a pale beige, taupe, grey shadow. For a very dramatic look, I use a black shadow in the crease with a very defined line drawn just where the lid meets the crease. Alternating between the ivory-dusted flat brush and the contour shade, blend well. For extra glamour in the evening, the final touch is to use a sparkling white at the browbone and the pale lid." Dita Von Teese.
The eye shadows are divided into two groups, glamour shades with shimmer: 300 night porter, 369 opulence, 370 wisp, 371 spotlight, 374 gilded lily, 375 plush.
And matt shades: 503 veuve noir, 512 von fleece, 520 brunesque, 524 mink, 530 sepia, 554 petticoat.

Eye Styler in Minuit, Art Couture Lash Volumizer mascara in Raven, Gel Eye Liner in Nocturnelle, lashes 37 and 39.
Lips
"I've always loved the way a vibrant splash of color makes the face