Tag: eye pencils swatches
Laura Mercier's  Kohl Eye Pencils are favourites of a lot of people and I can totally see why.
I have five (mini) pencils and would like to show them to you today.
The colours that I have are:  Black Violet, Brown Copper, Stormy Grey, Stone Slate and Black  Gold. And here is how they looks like.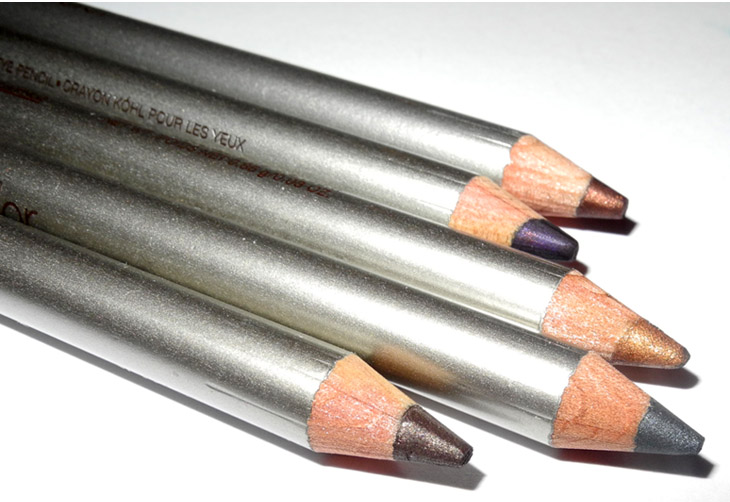 These have a very soft and creamy texture and glide on easily, without dragging the skin.  They have a fantastic pay off and gorgeous colours. Yes, the colours are definitely fantastic, all five of them! I imagine that blue and green shades are to die for, as well!
I would suggest kohl pencils for a quick smoky eye, you could use them on their own or with the eye shadows on top, looks great either way.
Brown Cooper, my personal
I've wanted to get some Bourjois eye liners for quite a long time and this week I've finally managed to do it! There were so many different types and colours that I just had to get 2 of them.
And one of them was Bourjois Effet Smoky Eye Pencil.
Here is what they say:
"Double-tipped eyeliner to smudge for a perfect every day smoky look! A smoky look available in 5 deep and intense shades achievable in 2 simple steps: 1) Outline the eye with the pencil 2) Smudge with the brush Its soft, easy-to-blend tip glides along the lashline for an intense outline in one stroke. Its ultra soft brush made of natural bristles perfectly smudges the formula. The result: a subtle but incredibly sexy smoky look in just 2 steps!"
There are 5 shades available:
(description of shades are mine obviosly)
71 Smoked Brown – the most beautiful  dark chocolate brown with shimmer, it reminds me of my HG Benefit shadows only a bit darker.
72 Dark Purple – gorgeous dark purple with shimmer, it looks amazing in the sunlight.
73 Deep Green – Deep Teal would be a better name for this shade, it's a deep teal with blue/green undertones, amazing when blended.
74 Grey Shadow – quite a dark grey, the most shimmery shade out of all 5.
75 Intense Black – intense matte black.
I have to say that I loved all the colours a lot but I had to calm down and pick one so I've got #73 in Deep Green because that's the most unique shade out of all (in my opinion). But this doesn't mean that I won't get more shades 😉
So what are my thoughts about the product?