Are you ready for Halloween? Do you want to create a great look and need inspiration? You can check out 21 awesome face charts here. And here are 3 that I loved a lot? Do you think you will try something out? Which one did you like?
Ace of Hearts
Look created by M·A·C Artist: Regan Rabanal
Location: New York, NY, USA
Follow the step-by-step and M·A·C products listed below to achieve that look.
STEP-BY-STEP
1. Block out the eyebrows with MAC Studio Sculpt Concealer.
2. Sketch out the card shape around the eye…use an actual playing card to get the right shape and trace it with Fascinating Eye Kohl.
3. Fill in the card with Luna Cream Colour Base and cover with White Frost Eye Shadow.
4. Add card details with Blacktrack fluidline.
5. Cover face with Studio Sculpt Foundation.
6. Use Blacktrack Fluidline and Mystery Eye Shadow to create the ultimate smoky eye.
7. Add lashes to top and bottom of eye with Duo Adhesive.
8. Using Lasting Lust Pro Long Wear create a heart shape on the lips!
FACE
Wipes
Studio Moisture Fix
Prep+Prime Skin
Studio Sculpt Foundation
Studio Sculpt Concealer
Blot Powder/Pressed – Medium Dark
Powder Blush – Dolly Mix, Desert Rose
EYES
Studio Finish Concealer
Fluidline – Blacktrack
Eye Shadow – Carbon, Soft Brown, Mystery, Bamboo, White Frost, Passionate
Eye Kohl – Fascinating
Cream Colour Base – Luna
Penultimate Liner – Rapid black
Cremestick Liner – Red Enriched
Zoomlash – Zoomblack
Fibrerich – All Black
LIPS
Lip Erase – Pale (PRO)
Cremestick Liner – Red Enriched
PRO Longwear Lip Colour – Lasting Lust
Dazzleglass – Extra Amps
Deadly Dame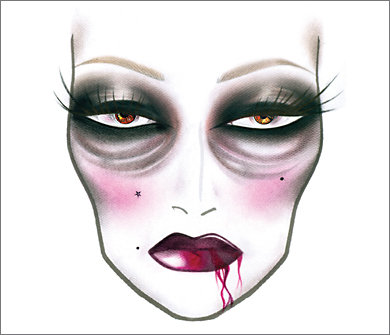 Look created by M·A·C Artist: Lara Brewster
Location: London, UK
STEP-BY-STEP
1. Prime and hydrate skin with an application of Prep + Prime SPF 50, and follow with a highlight of Strobe Cream.
Do you remember that today you can get Style Black by MAC? I already made posts about this collection . But here are 3 face charts that I liked the best(you can check how to get the look and other charts at MAC) and promo photos.
Mac Style Black – Face. Images and Official Information
Style Black – Colour by MAC. Official Information and Swatches
Information and promo photos