Tag: Fall 2011 makeup collection
Here is a preview of NARS Fall 2011 makeup collection. I am actually happy to see Maria Carla Boscono on the promo, I really like her.
The blue eye shadow looks fierce on her. I don't think that I would wear such makeup  for an every day life but I would love a thin line with this beautiful blue (Outremer single eye shadow) along the lash line.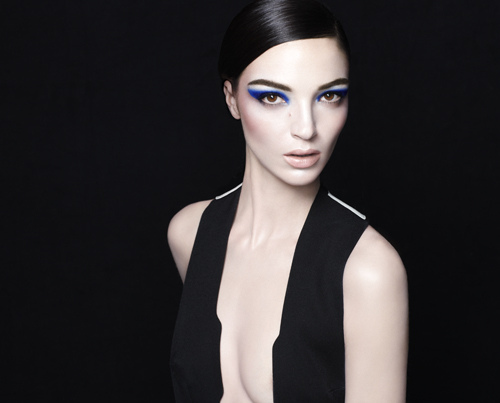 So, this collection includes:
Trio Eyeshadow, £ 33.00
Duo Eyeshadow, £ 23.50
Single Eyeshadow, £ 20.50
Lipstick, £ 17.50
Pure Matte Lipstick, £ 18.50
While we are enjoying Halcyon Days, the Summer collection by BECCA, Australian beauties can purchase the Fall collection which is called Lost Weekend and which is all about the warm brown tones.
The promo image is gorgeous as usual, really love the makeup and the style in general.
And what about the new products?
This collection includes:
Lost Weekend Palette, around £35
Escape from the ordinary with the Lost Weekend Palette. This limited edition 3-hole eye colour palette washes eyes in earthy tones of nude, fawn and tan, in a combination of velvet matte and soft shimmer formulas.
The Lost Weekend Palette contains:
Eye Colour Powder – Chino
Eye Colour Powder – Moleskin
Eye Colour Powder – Moire
Nail Colour 15ml /0.51 fl.oz, £12
Saddle Up, Caramel Nude
Toasted Marshmallow, Soft Brown Pink
Billy Tea, Dark