Here is a preview of NARS Fall 2011 makeup collection. I am actually happy to see Maria Carla Boscono on the promo, I really like her.
The blue eye shadow looks fierce on her. I don't think that I would wear such makeup  for an every day life but I would love a thin line with this beautiful blue (Outremer single eye shadow) along the lash line.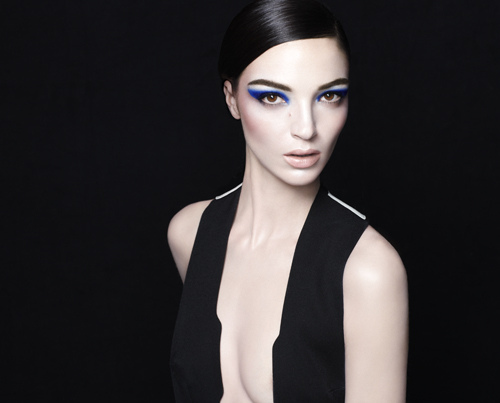 So, this collection includes:
Trio Eyeshadow, £ 33.00
Duo Eyeshadow, £ 23.50
Single Eyeshadow, £ 20.50
Lipstick, £ 17.50
Pure Matte Lipstick, £ 18.50
Velvet Matte Lip Pencil, £ 17.50
Lipgloss, £ 17.50
Nail Polish, £ 13.50
There will be also the new Larger Than Life Long-Wear Eyeliners
Via Veneto (black), Via Appia – Kupfer, Abbey Road (shimmering blue), Santa Monica (white), Rue Saint-Honoré (blue), Rue de Rivoli (metallic green), Rue Bonaparte (brown), Bourbon Street (lilac), Madison Avenue(grey).
Thanks to Magi for the heads up.   And here you can see some celebrities wearing the products from Fall.