Ok, I hope the 'Orgasm' in the title won't attract the wrong kind of audience. But what can you do?! Seems like these days you can't sell anything without sex, even a lipstick or a blush… Oh, well.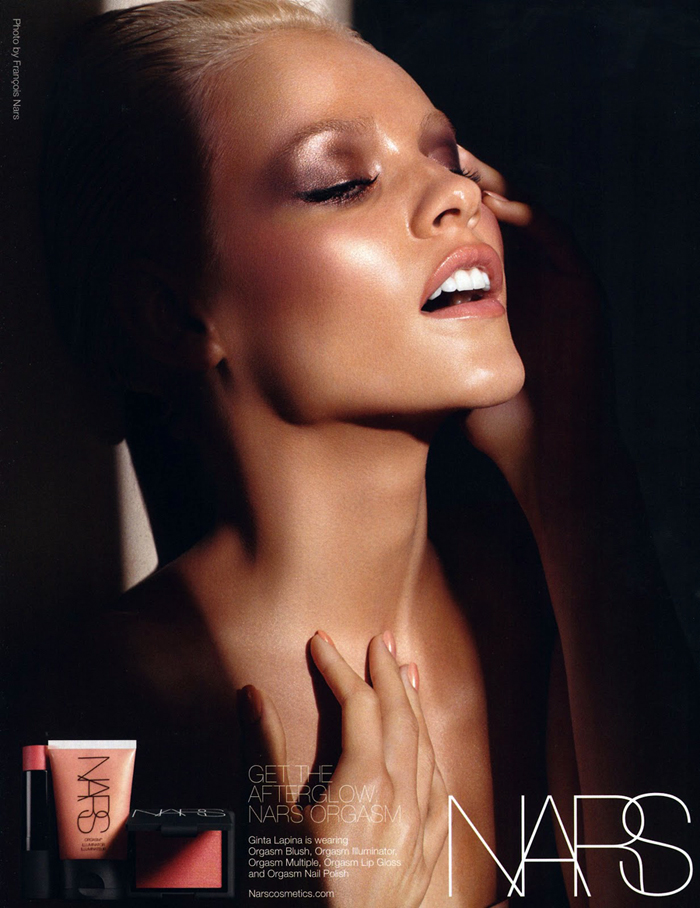 I have to admit that I really love this NARS Orgasm video campaign. And I don't mean the open mouth and all that jazz, but I am talking about the drop-dead gorgeous makeup! But Ginta Lapina never looks bad.

Here is how you can re-create the look:
COMPLEXION/FACE
Prepare the skin with the Pore Refining Primer  to prepare the skin for a beautiful makeup application.
Create an Immaculate Complexion using Sheer Glow Foundation. Warm the foundation in the palm of the hand and apply with fingers to the center of the face, blending outward.
 Apply Loose Powder all
I love that Ginta Lapina is the 'face' of the new NARS Summer 2012 makeup collection.
By the way, do you like the combination of pink nail polish  Trouville and the lip colour which is  Borneo Lip Liner Pencil, Moscow Pure Matte Lipstick  and Risky Business Lip Gloss?
This collection includes:
Blush,  £ 20.50/$27
Velvet Gloss Lip Pencil, £ 17.50/$24
Velvet Matte Lip Pencil, £ 17.50/ $24
Soft Touch Shadow Pencil, £ 17/$24
Nail Polish, £ 13.50/$17
 Lipstick, £ 17.50/$24
Pure