Ok, I hope the 'Orgasm' in the title won't attract the wrong kind of audience. But what can you do?! Seems like these days you can't sell anything without sex, even a lipstick or a blush… Oh, well.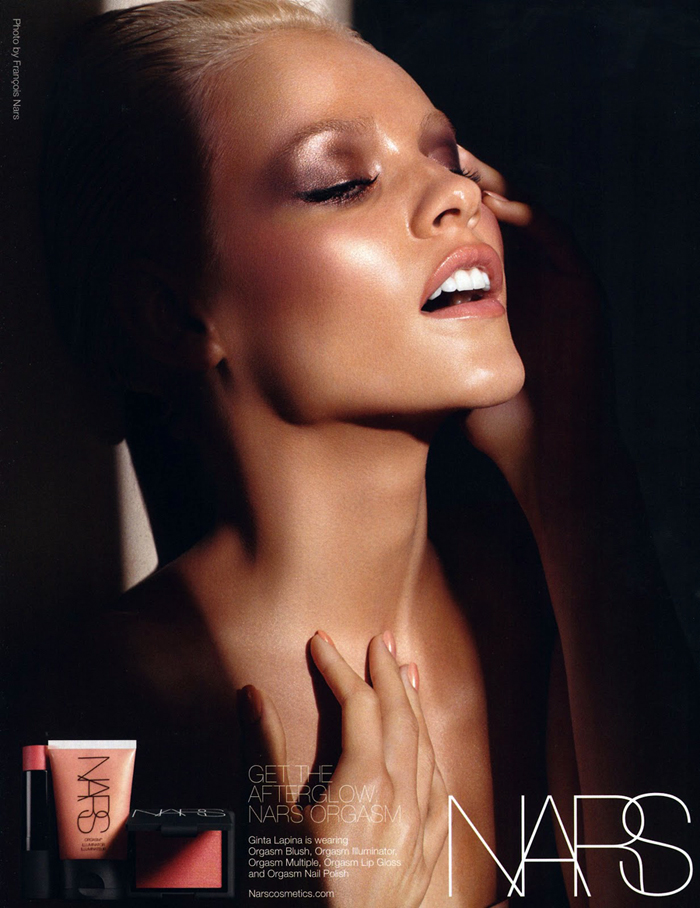 I have to admit that I really love this NARS Orgasm video campaign. And I don't mean the open mouth and all that jazz, but I am talking about the drop-dead gorgeous makeup! But Ginta Lapina never looks bad.
Here is how you can re-create the look:
COMPLEXION/FACE
Prepare the skin with the Pore Refining Primer  to prepare the skin for a beautiful makeup application.
Create an Immaculate Complexion using Sheer Glow Foundation. Warm the foundation in the palm of the hand and apply with fingers to the center of the face, blending outward.
 Apply Loose Powder all over the face with puff, pressing and rolling the powder into the skin. Buff any excess powder away.
Apply Orgasm Multiple  to the cheeks, blending with finger towards the temple. Set Orgasm Multiple with Orgasm Blush, applying to the apples of the cheeks, hair line, temples, bridge of nose, and chin.
Highlight the face with Albatross Highlighting Blush Powde along the cheekbones, bridge of the nose, and bow of the lip.
 EYES
Apply Orgasm Multiple to the eyelid, blending with finger to a fresh finish.
Apply Fez  to the eyelid. Add depth to the crease and the lash line with a mixture of the chestnut shade of Surabaya Duo Eyeshadow and Lulu Eyeshadow. Blend a wash of Night Rider Eyeshadow to the eyelid. Highlight the brow bone with Albatross Highlighting Blush powder.
 Line the eyes with Via Veneto Larger Than Life Long-Wear Eyeliner and finish with two coats of Larger Than Life Volumizing Mascara.
 LIPS
 Line and fill the lips with Rosebud Lipliner Pencil. Blend with finger to soften the color.
Apply Orgasm Lip Gloss to the lips.
 NAILS
Complete the look with Orgasm Nail Polish on the nails.