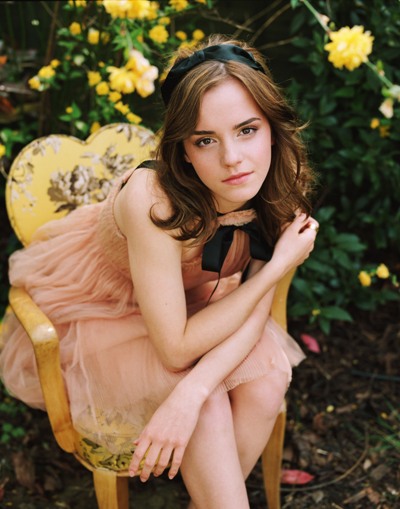 Emma Watson a star of Harry Potter and just a beautiful girl is going to launch her  own clothers and jewelry that will be available in February 2010. The collection will include:
t-shirts
trousers
dresses
knitwear
jersey
skirts.
The accessories were made from recycled sweetie paper and banana fiber. All the money from the collection will be donated to People Tree Foundation which is a a charity helping artisans with training and environmental initiatives.
This is what miss Watson says about this event:
"I wanted to help People Tree produce a younger range because I was excited by the idea of using fashion as a tool to help alleviate poverty and knew it was something I could help make a difference with"
Promo photo of the brand
This is just a post about Harry Potter and Half Blood Prince, Emma Watson & her Favourite makeup.
Several days ago I went to the cinema to watch Harry Potter and Half Blood Prince. I am a fan of HP and read all the books several times so I was very excited about the movie. I'm not gonna write about all pluses and minuses, because I'm already tired of such discussions 😀 but in general I liked the movie!
And did you all notice how nice Emma Watson looks now? this is a photo from the premiere. And she was on the covers of so many magazines in July and now she is a model for Burberry. There are so many cool things about her but today I would love to tell you about her favourite makeup. When she was promoting Harry Potter and the Half Blood Prince  makeup artist Geoffrey Rodriguez was using Dior products for Watson. Her favourite Dior products are: