Here is a preview of three nail polishes collections from Zoya which they offer this autumn. They are called Designer, Diva and Gloss.  Each collection  is "haute" off the New York Fashion Week  Fall 2012 runway.
Designer Collection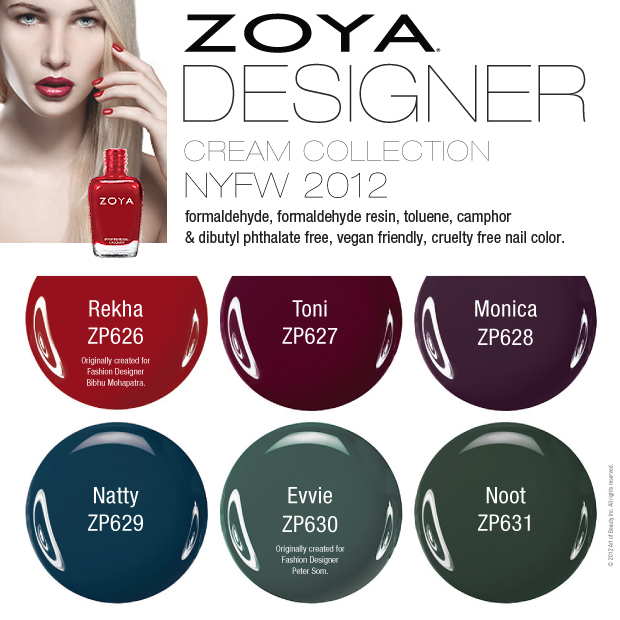 Rekha (ZP626) – Blood red cream (Bibhu Mohapatra custom shade)
 Toni (ZP627) – Dark maroon red cream
Monica (ZP628) – Dark mulberry purple cream
Natty (ZP629) – Smoked navy blue cream
Evvie (ZP630) – Evergreen green cream (Peter Som custom shade)
Noot (ZP631) – Charcoal green gray cream
 Diva Collection
This week I got the information about Spring/Summer 2010 Jelly collection by butter LONDON. Probably most of you already know this information and alredy bought those nail polishes but still let's take a look at the collection.
Introducing Jelly by butter LONDON – an utterly unique approach to nails for Spring/Summer 2010! Soft hints of colour, which can be adjusted to compliment the diverse trends on the runway. For this season we saw ethereal fabrics and nude color, high impact sparkle, body conscious silhouettes, even flashes of striking colours such as red on the catwalk. butter LONDON wanted to reflect all these strong trends with this new collection.
So why these shades? "At first the Spring/Summer collections for 2010 left me baffled!" explains Nonie Creme, Founding Creative Director and product creator for butter LONDON. "How would I create nail shades for such a polarized season? There was a big divide between intense colour and total nudity in terms of catwalk makeup  and nails. The challenge was to find a middle ground that suited both directions."
Juicy, sheer colour that looks and feels like slick, wet "lipgloss" for your nails. These are designed to be layered, so you can wear just one coat for a hint/blush of colour and healthy glow, or two for better coverage of little nail problems and more colour, or three for juicy, barely sheer summer colours that are good enough to eat. They are also stunning when mixed and matched over one another! So many options in three bottles!
As always, the "3 Free" butter LONDON formulation offers a safer alternative to chemicals you are exposed to by other nail products. We believe in colour, not carcinogens.
Three NEW Jelly Colours:
• CHUFFED – A cool cantaloupe that becomes more of an iced tangerine with each coat.
Definition: Pleased and delighted
• STROPPY – A pale grape Jelly that becomes