Today let's take a look at the new launches in the world of luxury makeup. The first one is the new lipstick by Chanel called Rouge Allure Velvet.
It is a matte lipstick with a light velvet formula enriched with jojoba oil to moisturize the lips. This lipstick will give a rich and opaque coverage.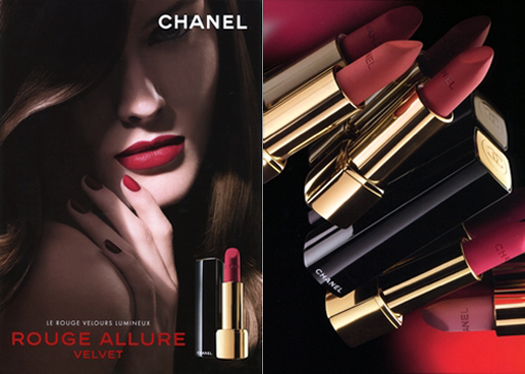 There will be 8 lipsticks divided into four groups:
Beige Troublant(beige): 32 La Ravissante, 33 La Distinguee.
Rose Insolent(pink): 34 La Raffinee , 37 L'Exuberante.
Rouge Magnetique(red): 38 La Fascinante , 39 La Somptueuse, 40 La Sensuelle.
Brun Envoutant(brown): 41 L'Exquise.
To celebrate the launch of the new lipsticks Chanel also introduced three new nail polishes and a matte top coat.
08 Pirate, re-lauch of the famous red
519 Rose
Do you remember the preview of the gorgeous and a very limited edition Byzance palette by Chanel?
So here is the photo of the products that will come as a part of the mini collection which should be available in June.
There will be two variations of Joues Contraste in Or and Rouge, a red shade of the new lipstick formulation Rouge Allure Velvet and an Les 4 Ombres eye shadow palette  which I really love.