I have posted this photo on Facebook some time ago but I thought I'd also mention these products here.
I would call Xen-Tan Deep Bronze Luxe Once A Week Self Tan (review and swatch) and Omorovicza Gold Shimmer Oil (review and swatch) my summer essentials.
Both products are not cheap and I have got them both last summer (from look fantastic) and I consider it to be an amazing investment!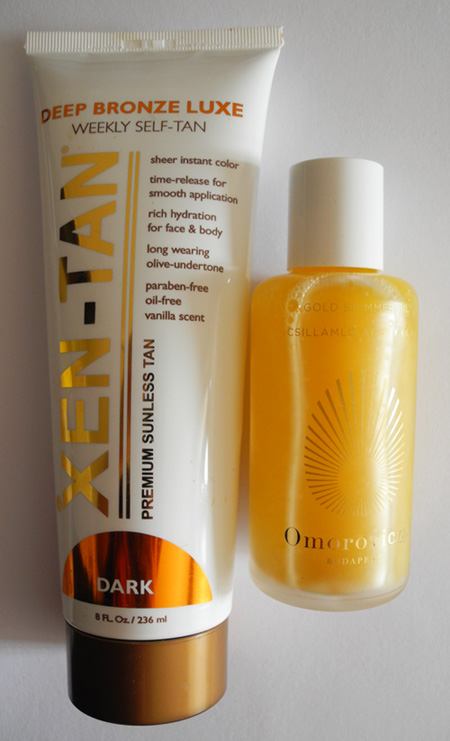 I have dark eyes and hair so a lot of people think that I tan easily and that my skin tone is medium at least. But it's not, my skin is rather pale but not in an 'Dita von Teese' kind of way, and it takes me ages to get some colour.
This is why in summer I like using the Xen Tan  Deep Bronze Luxe once per week on my body to give myself some healthy looking glow. The brand actually has a darker shade which I plan to get next (I have a lighter shade, too. Review).
As for the oil, it smells divine and gives the most gorgeous shimmer in the sunlight. I am addicted!
I am not an adept of fake tan and I haven't been using it that much in the past actually. But this summer I've decided to get a decent one for some reason. I guess I was in despair because I haven't been to the sea this year (and last one).
And while most of my friends are looking and feeling wonderful after their vacations, I am  tired and my skin looks pale with greenish/blueish undertone. So fake tan was a must  have for me!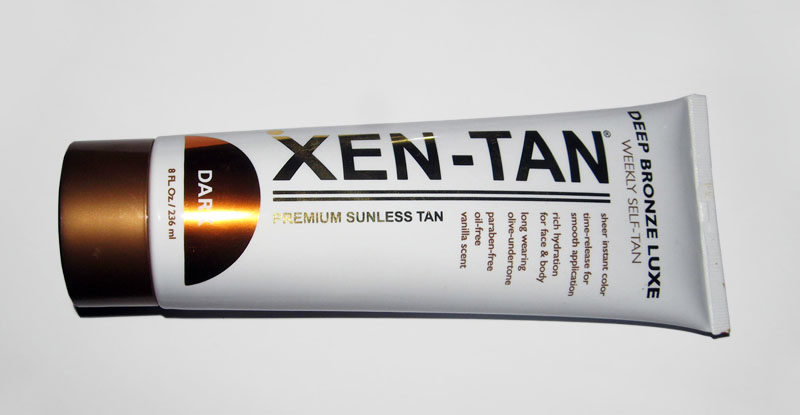 So after reading lots of reviews and asking on Twitter I've realized that most people recommend Xen Tan Deep Bronze.
I've ordered Xen-Tan Deep Bronze Luxe Once A Week Self Tan (236Ml, £28) and a Xen-Tan Luxury Tanning Mitt (£4). I got both for £32.
I've never used any premium self tanners so keep that in mind. I've tried only those cheaper brands and was not impressed.
This is how the mitt looks like after it has been used…
But what about this self tan?
I have to say that