I can't believe that I forgot to write about one of my favourite makeup products of this summer.
It's a bronzer… And I am talking about Yves Saint Laurent's Terre Saharienne Bronzing Powder (£31) in  N° 5 Cinnamon Sand.
It comes in a velvet pouch, the design of the palette is warm brown.
I've been using Terre Saharienne bronzer non-stop this summer. And I am really sorry but I can't find the photos of this bronzer when it was untouched,  looks like I've accidentally deleted them.
It is such a shame that the YSL logo is almost gone by now, I really loved it.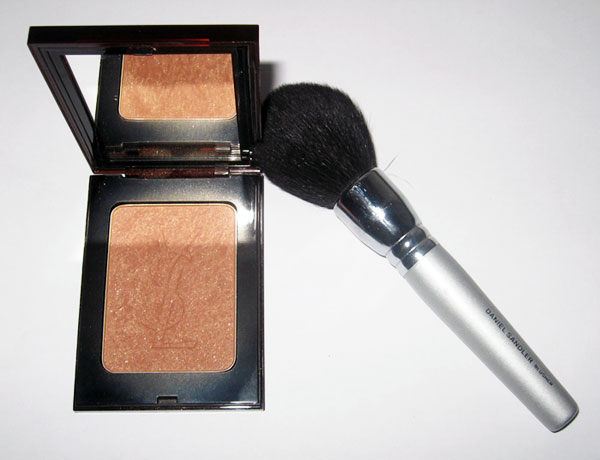 Cinnamon Sand is a medium shade, there are two more: N° 4 Apricot Sand and N° 6 Bronze Sand.
I find that the shade that I have is perfect for light to medium skin tones as it is not dark but not too light. The shade is buildable so you can make it more intense. It is not orange at all and looks natural  in the day light. I've been using it for the daytime  mostly. For the evening I like my Too Faced bronzers.
This bronzer has beautiful delicate shimmer which I personally really like. I've been trying to capture the shade on the skin, hope this is helpful.
I am very happy with my bronzer and would totally recommend it to everyone.