Here is a preview of YSL's makeup collection for Christmas 2013, Parisian Nights, with Lindsey Wixson on the promo.
Although, Ginta is my favourite YSL girl, I like this photo anyway. Lilac eyes, rosy lips and porcelain skin with glam hair style and elegant white shirt  is a winning combo, in my opinion. The funny thing  is that I am wearing white shirt, pink lipstick and plum eye makeup, as I write this.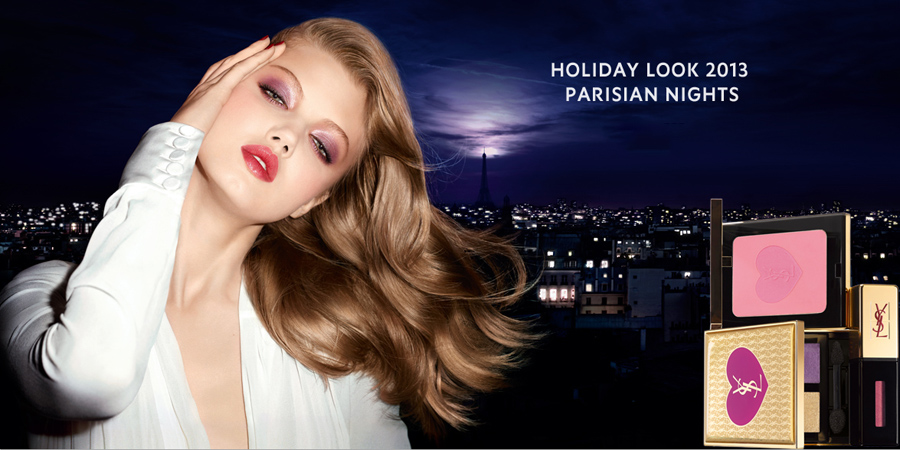 So what are the products from the collection?
Blush Radiance
Pure Chromatics
Touche Eclat
1 Luminous Radiance
2 Luminous Ivory
I don't use up makeup products that often but I did finish both shades 1 and 2 of Touche Eclat in the past. I usually have both shades in my makeup bag all the time, so I've got the replacement, of course.
I am loving this special edition  design with beautiful dots, looking very festive. I have a special edition with stripes, and it is a truly luxury product.
Rouge Pur Couture
55 Luminous Red
56 Luminous Vanilla
57  Luminous Pink
58  Luminous Mauve
La Lacque Couture
12 Rose Renaissance
29 Dore Orferve
I personally love the  blush, but a new pink blush is the last thing that I need right now. So I will take a look at the fuchsia lipstick, it may be a great addition to my collection. The matching nail polish  may go home with me, too.