ArtDeco's Makeup collection for Spring 2013 is called Butterfly Dreams. I am loving the beautiful promo image with butterflies and the pastel blue and pink domination, very fresh and Spring appropriate.
This collection includes:
Eyes
Butterfly Dreams box, I actually have s green ArtDeco case with butterflies from one of the previous collections.
Eye Shadow Duochrome
255 aero spring green
267 fresh water
285 lilac passion flower
297 rosy heart throb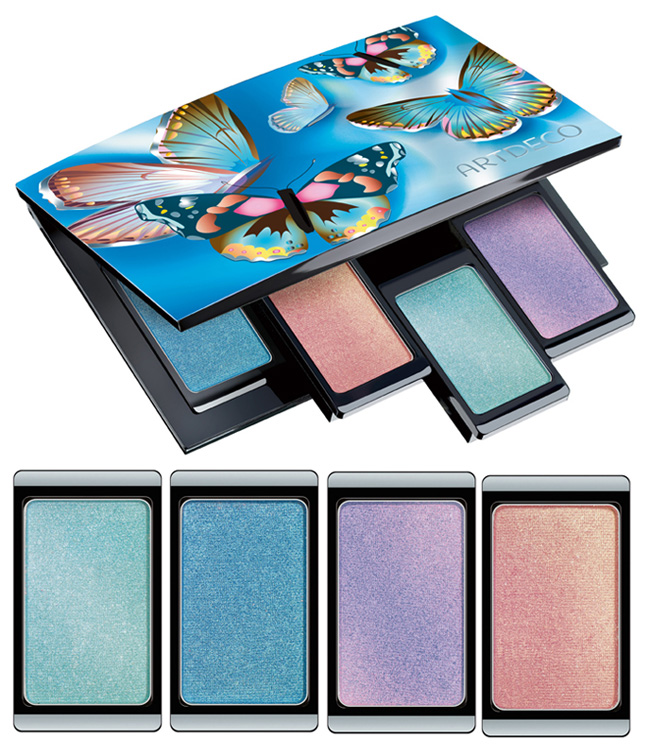 Eye Designer Refill
59 frosted spring
74 blue breeze
81 rose in love
Sensitive Fine Liner
Amazing Effect Mascara
Magic Eye Liner
Soft Eye Liner Waterproof
 Lips
Soft Lip Liner Waterproof
72 orange tulip
76 sweet red
Hydra Lip Color
08 hydra soft coral
10 hydra soft pink
Perfect Color Lipstick
18 innocent kiss
61 orange tulip
Art Couture Lipstick Classic
258 cream sweet red
265 cream spring fever
Face
Blusher
High Performance Liquid Foundation
Nails
Ceramic Nail Lacquer
235 spring is in the air
245 iridescent butterfly wings
248 spring fever pink
264 shimmering orange crush
266 iridescent rose
271 shade of innocence
My picks would be the duochrome eye shadows, especially light blue and pink, both lip liners and pink Hydra Lip Color. What about you?