I really love this new collaboration of Dita von Teese and ArtDeco which is called Fall Favorites.
This is a collection of dark lip & nail products and jewel toned eye shadows. And also some must-haves for face and brows such as powder, highlighter, concealer and eye brow gel.
So here is how the collection looks like:
Lips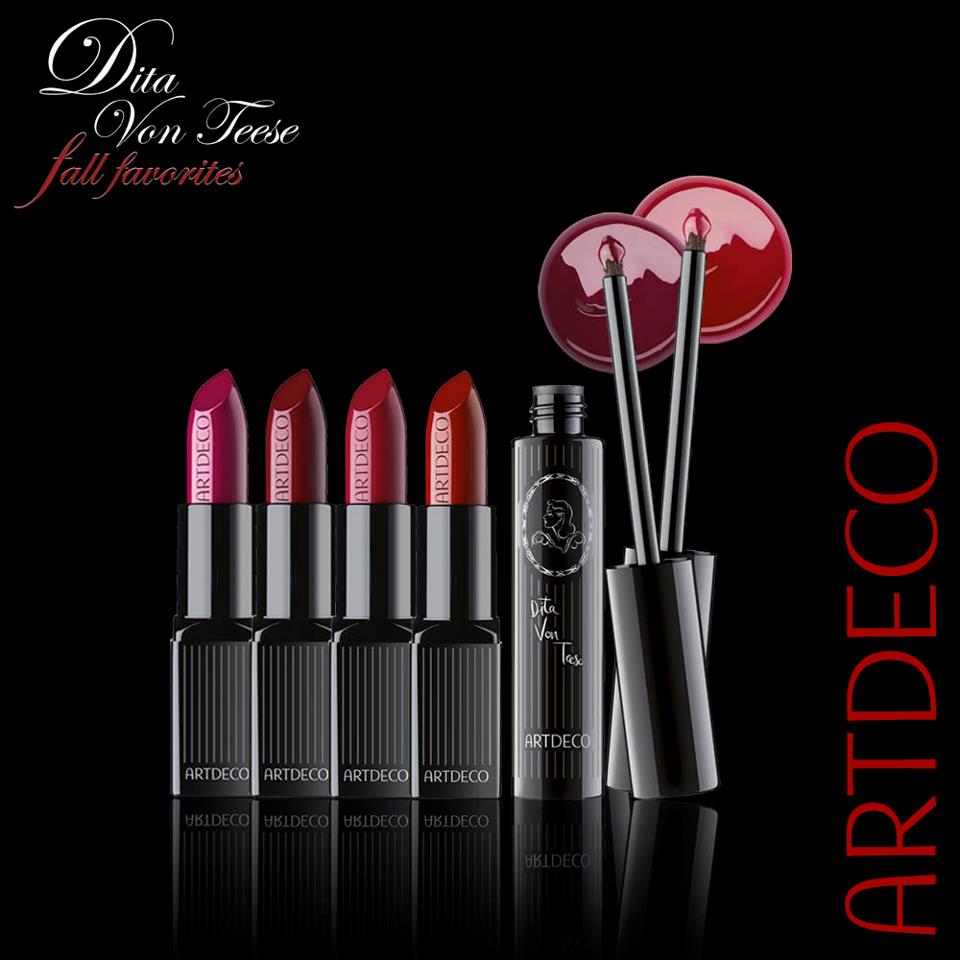 Art Couture Lipstick Velvet: 631 Manslayer, 634 Erotique, 650 Tryst and 656 Black Dahlia
Lip Lacquer: 29 Lovecraft and 37 Sexpert
Eyes
Ultra Volume Mascara in 01 Onyx
Eye Brow Gel 1 Midnight, 2 Mink, 5 Crystal
Eye Lashes 10 Black
Trio eye shadows box in Dita von Teese design
Eye Shadow Pearl in 27 Champagne, 26 Charmeuse, 17 Sable, 150 Mascarade, 175 Sapphire and 185 Mystique
 Face
Illuminating Baked Powder
Fixing Loose Powder
Anti Aging Concealer Lifting Effect 3 Beauty Sleep Wand
Long-Lasting Foundation Oil-Free in 10, 35 and 40
Blusher in 25 She-shamen and 26 Orchidé
Nails
Ceramic Nail Lacquer in 24 De Sade and 26 Vanitas
 Mini Ceramic Nail Lacquer 05 Paper Moon
If I had to pick only three products – I'd go for  656 Black Dahlia lipstick, 26 Vanitas nail polish and a brow gel, clear or brown. If I could have only one product – definitely the lipstick. They are actually fantastic, see my review of the other shade from the Classic Collection.
I am also curious to see how pigmented are the dark eye shadows. But ArtDeco eye shadows are usually fantastic, so I am hoping for the best.
And what would you pick?