How absolutely gorgeous is the look of the new ArtDeco makeup collection for summer 2015? It is called Here Comes The Sun, and it has pretty sun pattern on the products.  And there is a selection of amazing shades to create that sun-kissed complexion: bronze, brows, oranges and corals.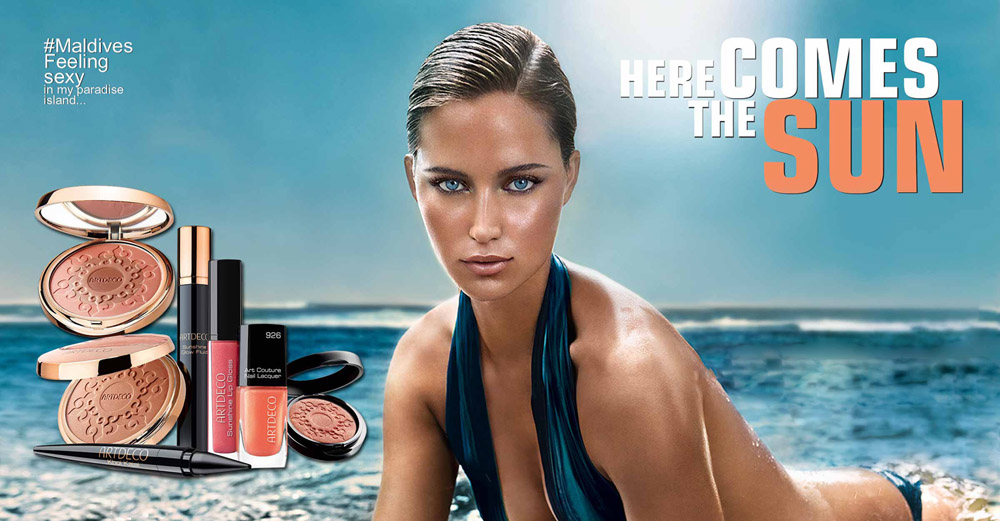 SUNSHINE BLUSH
Three-coloured blusher for a fresh, sun-kissed complexion. Mix the colours together using a blusher brush and apply to the cheeks according to your face shape. You can also use the colours separately to create a particular effect: brown tones for a tanned finish or orange tones for a fresh look.
BRONZING POWDER COMPACT 
Water-repellent bronzing powder with UV factor. Lighter, more transparent bronzing powder with a natural matte finish. Free from lanolin and mineral oil. Fragrance-free. Paraben-free.
02 Beach Walk and 04 beach party
15 Coconut,  21 Sand Beach, 26 Blazing Sun and 31 Sun Bath
Nail varnish with unique vinyl gloss effect and perfect coat brush: 926 Couture Beach Life, 933 Couture Summer Breeze, 936 Couture Sun-Kissed
SUNSHINE LIP GLOSS
Long-lasting Lip Gloss in  3 Glossy Sunshine and 5 Glossy Sunset
Softly shimmering fluid with light bronzing effect for a radiant looking skin.  Contains nourishing vitamin E and hyaluronic acid.
Apply the fluid directly to the desired area of the skin (face – cheekbones, décolletage, etc.) or mix a small amount of fluid immediately before use with your day cream or makeup to give the skin a beautiful, delicately bronzed finish. Can also be mixed in small amounts immediately before use with a day cream or makeup to enhance the natural skin tone and in so doing make the skin brighter.
KHOJ KAJAL in Blak
SPRAY ON LEG FOUNDATION 
This bronzing spray absorbs rapidly, giving your legs a naturally bronzed look in no time at all. The Spray on Leg Foundation can be easily and evenly sprayed onto the skin and gives your legs a naturally bronzed look in no time at all.
3 Sand, 5 Sun Tan, 8 Desert Sun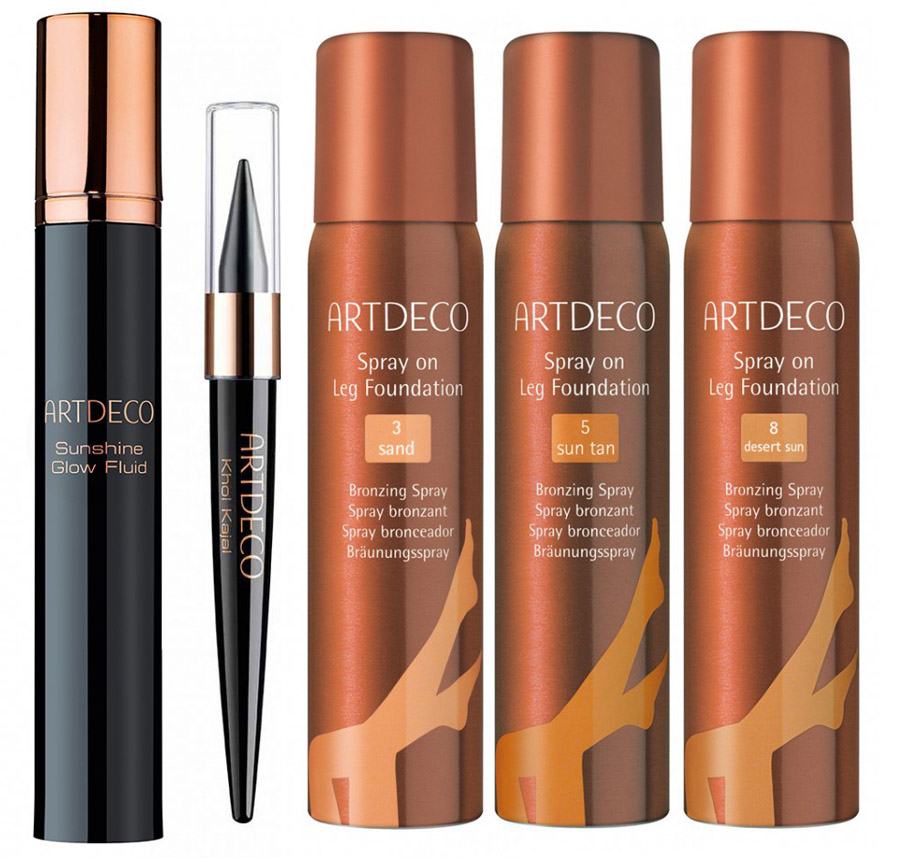 I love the look of everything, especially the blush and the sunshine glow fluid.
ArtDeco is available from Debenhams, so look out for this collection (it is not yet on-line).