Right, so where do I start?
First, of all, I really love the YSL's Manifesto campaign with Jessica Chastain, how gorgeous is she? She never looks bad, in my opinion, anyway.
As for the scent itself,  it is actually really nice, the notes are: bergamot, black currant, Sambac jasmine, lily of the valley, cedar, sandalwood, vanilla and tonka bean, I find that it smells feminine and sexy.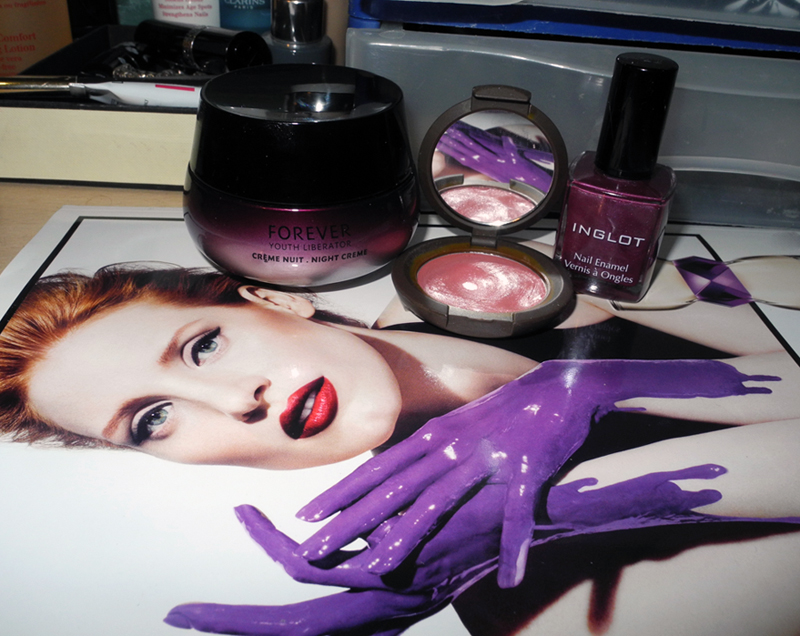 Speaking of YSL, I have been using their Forever Youth Liberator night cream for some time now and will tell you my thoughts about it soon.
There is definitely a purple theme going on this photo, purple used to be my favourite colour for years and years, actually. I still love it a lot, but  black, red and crimson would be my top picks these days.
My friend, who definitely knows my taste,  got me an Inglot nail polish in 922 for my Birthday which I am wearing today, so expect to see "Nails Of The Day" feature soon.
And last, but not least, I've hit the pan on my BECCA Amaryllis blush which means a lot to me, considering how many blushers I own. In fact, I plan to add some more to my collection ( I use them all!) and making up my mind on which  (cream) ones to get… Any recs?