Today I want to tell you about a special product that I have included in my November favourites, and have been loving for months already. It is BECCA's Luminous Skin Colour Ultra-Sheer Foundation SPF 25+.
The name is very spot- on!  You get a very light coverage, dewy  foundation. Imagine if you would mix your serum or moisturizer with a bit of your regular foundation,  now you get the idea.
So what is the point of it anyway [if it is that sheer]?
I personally prefer a light coverage on my face, and more coverage where I need it, instead of full-on (often heavy, and sometimes even mask-like foundation) all over.  And with this product you get exactly that – it is light-as-air.
Although it can cover only minor imperfections,  it is actually fantastic! You get a polished, healthy looking and more even complexion! Just add some under-eye highlighter/concealer and dots of concealer where you need to hide any imperfections on your face, and you will get a very natural-looking  result!
It looks just like your skin, but better. Trust me, most people won't be able to tell that you are wearing a foundation on your face.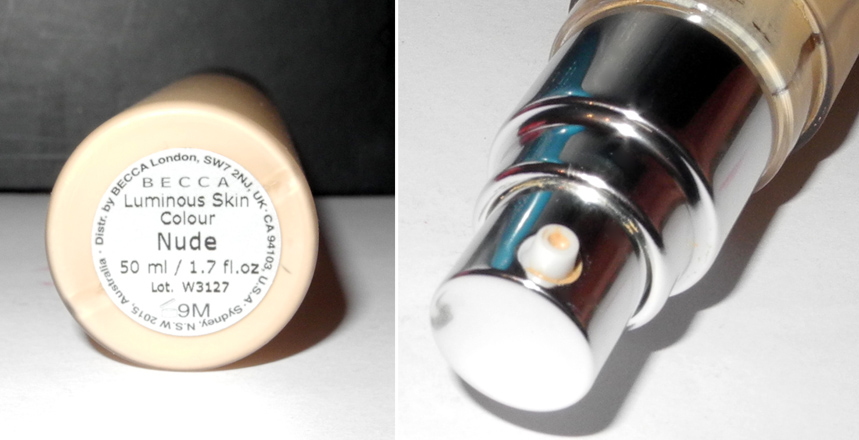 What about the finish?
Again, I totally agree with the name, you get a luminous effect! I don't like matte, or even semi-matte finish on myself personally, so this is love!  It works amazingly with my dry skin, doesn't enhance any dry patches, it goes on smoothly, I would even say that it is moisturizing.
Luminous Skin Colour contains anti-oxidant vitamins A, B, D, and E, and also gives a broad spectrum SPF 25+ to protect against "over 96% of both UVA and UVB rays".
The shade shown above is Nude, which is described as light to medium beige, neutral to yellow with golden undertones. Ivory (it is with pink undertones) would be my better match but I wear Nude, when I want to warm up my face a little bit. I can easily get away with that shade, as it is sheer and blends in beautifully.
Hopefully, you can see the  finish it has on the photos in focus and out of focus, above.
The price is £35 for 50 ml