Last time I've posted my list of  books to read  was back in 2013, so it is definitely time for an update. I do post about books I am reading on Twitter, Instagram and Pinterest thought, if you are interested.
Before we start, I just want to mention that I did a feature about the beauty books every girl (interested in the subject, obviously) should read.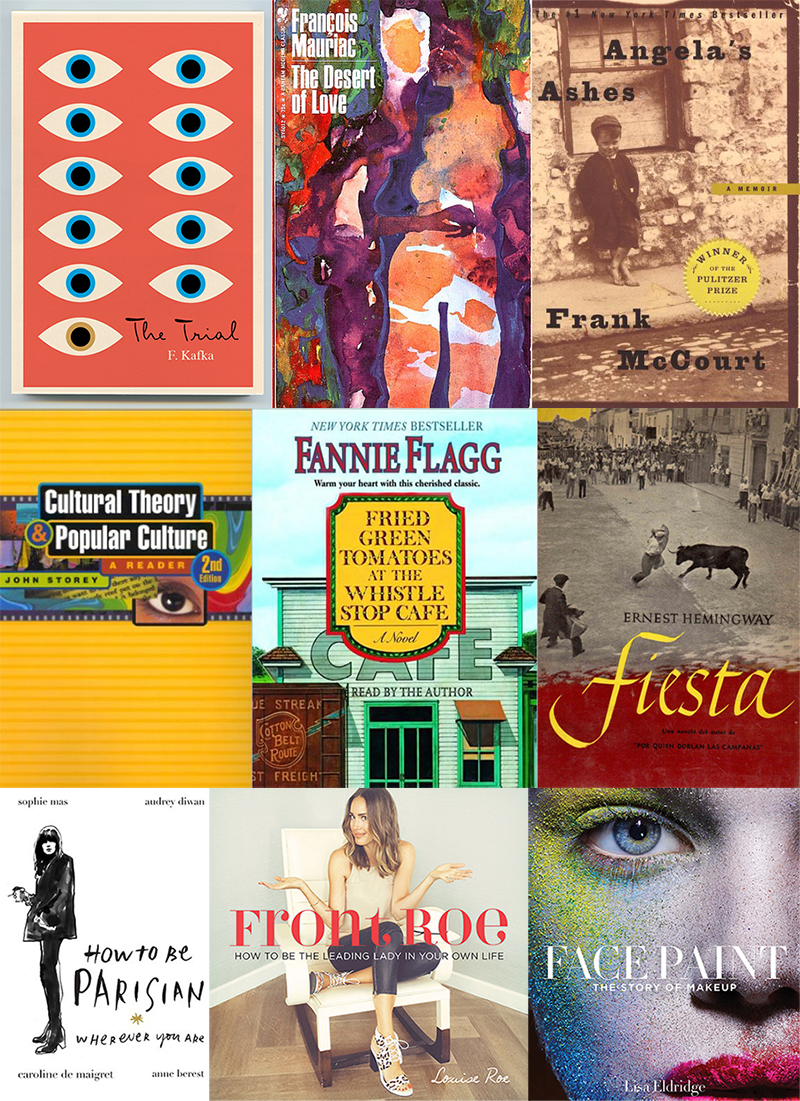 So here are nine books that I plan on reading in the near future. I already have them all, except the last one which is not out yet (but I have it on pre-order).
1. Franz Kafka The Trial.
Don't know how it happened but somehow I never read this book.
2. François Mauriac. The Desert Of Love.
Mauriac was a favourite author of my literature professor from university, and that is a very high recommendation for me. Had this book on my "to read" list for ages now.
3. Frank McCourt. Angela's Ashes.
I read somewhere that this is similar to The Life Before Us and The Catcher in Rye, and  since I adore both, have to read this one now.
4. John Storey. Cultural Theory and Popular Culture.
Culture studies is what I've always loved (and what I've studied), and I am also interested in mass culture vs alternative culture vs high culture.  I have read a chapter of this book already, and it did not disappoint.
5.  Fannie Flagg. Fried Green Tomatoes at the Whistle Stop Cafe.
The name is really cool, and a lot of people recommended this to me.
6. Ernest Hemingway.  Fiesta/ The Sun Also Rises.
See no1, I have no idea how come I never read this book yet. This has to be changed.
Also, since this is a beauty website, I've decided to add some fashion & beauty books, too.
7. Anne Berest, Audrey Diwan, Caroline De Maigret, and Sophie Mas. How to Be Parisian Wherever You Are: Love, Style, and Bad Habits. 
To be honest, I like French as any any other culture, and I am not aiming to be a Parisian by any means, but it may be a good book fashion wise, we'll see.
8. Louise Roe. Front Roe.
Speaking of fashion, after watching some Louise's videos on YouTube, I knew I wanted to read all her tips. And I definitely agree with this.
9. Lisa Eldridge. Face Paint.
Of course, I have to have this book. Anyone who is interested in beauty should get a copy, too.
I have 122 books on my Kindle, and God only knows how many printed ones. But I plan on reading these nine in the near future. And I'd love to hear what you are reading & what you plan on reading and your recommendations.