I really love the promos of the new butter LONDON  cosmetics and nail polish collection. A gorgeous redhead girl and a statement look is exactly what you need as an inspiration for the AW season.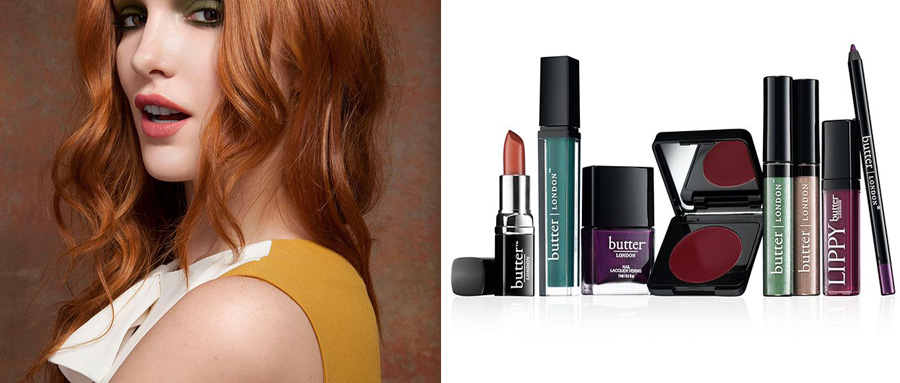 So what are the new products?
Two  Lippy Tinted Lip Balms ($20) in Jaffa and Tramp Stamp, two Lippy Liquid Lipstick ($18) in Ladybird and Ruby Murray. Wink Colour Mascaras ($20) in  British Racing Green and Cor Blimey Wink Cream Eye Shadows($18) in Twigged and Coriander, and Wink Eye Pencils ($18) in Busker and Cor Blimey.
My personal favourite is Cheeky Cream Blush ($20) in Ruby Murray, which is a deep plum.
You can buy the collection from Macy's.
Besides the colour collection, you can also get new nail polishes, and also a set of six polishes:
Brick Lane: Full coverage, gold shimmer in deep pumpkin orange créme
Bric-A-Brac: Full coverage, flaring shimmers in saffron red gel-like base
Cor Blimey: Full coverage, brilliant aubergine in matte-satin finish
Dubs: Full coverage, taupe glitter in 3D texture base
East End (set exclusive): Full coverage, curry yellow in matte-satin finish
Chocka (set exclusive): Full coverage, deep plum créme shimmer
Available from Macy's.