It's almost November so it's time to think about Christmas gifts! Here are some of the sets from Lush and Philosophy that are already available. There are so many other sets by these brands and here are just those that I've chosen.
12 Days of Christmas, £34 95
A gift to help you celebrate right up until the Epiphany. It's a large gift box for bathers, with twelve bath products to help them celebrate bathtime as the Lords are a-leaping, geese a-laying and the maids a-soya milking. For the twelve days of Christmas, my true Lush gives to me… Snow Globe and Mandarin's Tea Party soaps; five Bath Ballistics with So White, Cinders, Satsumo Santa, The Böög and Winter Bath; you also get sweetly spicy Gingerbread House, our fabulously floral Christmas Eve, softening Bearded Lady and creamy Candy Cane Bubble Bars.
Christmas Candy Box, £19.95
This box of treats is perfect for anyone with a sweet tooth. We've put in our most alluring candy products with the ever-popular Snow Fairy shower gel, Rock Star and Honey I Washed the Kids soap and Candy Cane Bubble Bar; and joining that foursome, we've added Bubblegum lip scrub and our new Snow Fairy lip tint to keep your lips sweet.
Chillin' With My Gnomeys, £6.50
A perfect little giftbox for gnomes, elves and everything in between. Inside, there are two citrusy products for the bath or shower, with refreshingly vibrant Whoosh shower jelly and our new zesty Snow Globe soap for hands and bodies. You won't feel the chill of winter with this gift in your bathroom.
Winter Garden, £29 95
Lathering up in a Winter Garden might sound like an outrageous and cold idea, but it's designed to polish up your body in the shower, so that you're in good shape when winter settles into the garden and everywhere else.
Wonderful Christmas Time, £99.50
A wonderful Christmas time is sure to be had by all who are lucky enough to get one of these luxury selection boxes. When we first unveiled this one, there were roars of adulation at the gorgeous contents, mainly because it's a mix of bath and shower products to make the festive period simply wonderful. Now, it's finally available for all of you.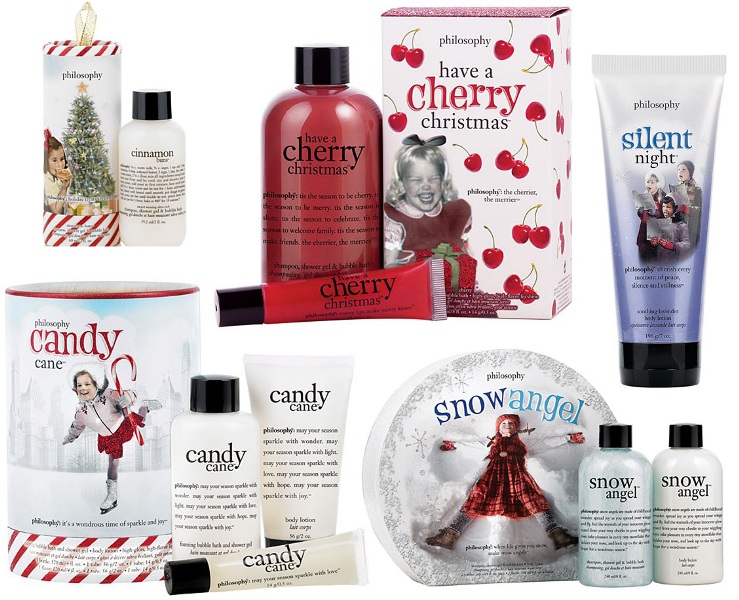 Cinnamon Buns Holiday Ornament, $6
The holidays are truly heavenly with this delicious, decorative gift. adorned as a keepsake holiday ornament, the surprise inside is our famous cinnamon buns shampoo, shower gel & bubble bath 2 oz. Indulge in the fresh-baked scent of cinnamon swirls and icing, as the moisturizing lather gently cleanses and conditions skin and hair.
Have a Cherry Christmas Duo, $18
Wish someone a cherry christmas with this merry gift set featuring shampoo, shower gel and bubble bath (8 oz.) and high-gloss, high-flavor lip shine (0.5 oz.). These moisturizing formulas leave skin feeling clean and soft and lips looking glossy and beautiful. The cherry-licious scent helps brighten the holiday and leaves you feeling cheerful.
Silent Night Soothing Lavender Body Lotion, $16
Soothe your skin and your senses with philosophy's soothing lavender body lotion. This ultra-rich, moisturizing formula contains natural olive and macadamia-nut oils as well as shea butter to hydrate and replenish dry skin as it softens. Allow the calming scent of lavender to bring you peace as you melt this body lotion into skin.
Candy Cane Gift Set, $22
A cool, crisp season comes to life with this invigorating 'candy cane' gift set. philosophy's foaming bubble bath and shower gel (4 oz.), body lotion (2 oz.) and high-gloss, high-flavor lip shine (0.5 oz.) leave skin feeling super-clean and soft and lips looking glossy and beautiful. Allow the crisp peppermint scent to liven your spirit and add joy to your holiday.
Snow Angel Set, $20
Fresh, clean scent captures the essence of a fresh snowfall and evokes the childhood joy in us all. Set includes body lotion as well as 3-in-1 shampoo, shower gel and bubble bath.
Have a great shopping!