shu uemura is famous for gorgeous lashes but these lashes from Tokyo Lash Bar collection are simply breathtaking!
This is what is written about the collection:
"As an expert in the art of false eyelashes, shu uemura's tokyo lash bar has established itself to be a hot and trendy beauty staple internationally. In a new sophistication, neo-tokyo girls get dressed up in cyber sexy fashion with enchanting eye make-up and extravagant, glimmering lashes."
I don't usually post such big promo photos but this time I just couldn't resize them!  There are 3 gorgeous pair of lashes, take a look yourself:
Neo Sparkle
Graceful, flirtatious eyelashes with diamond-like glitter coating each strand of hair.
Neo Reflector
Inspired by architectural approach of future fashion, these elegant, silver coated lashes softly sparkle with moon shape sequins. dimensional design with mirror shine effect for outstanding cyber-chic eyes.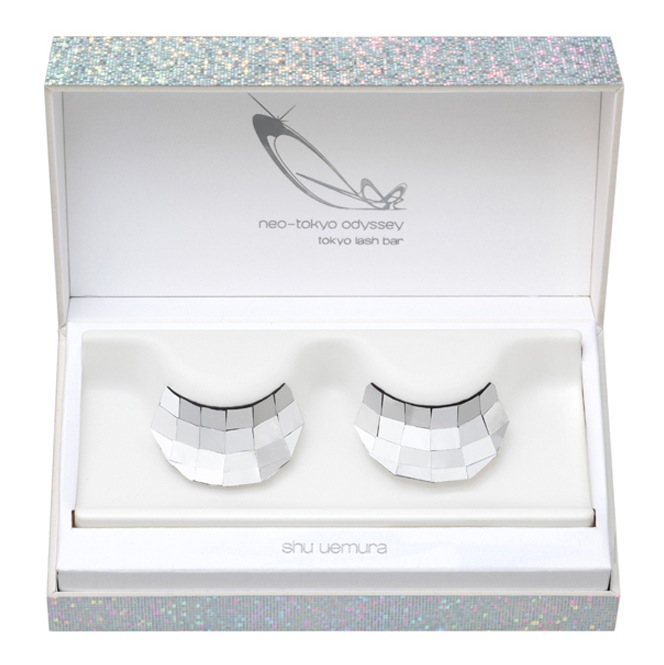 Neo Fringe
A set of upper and lower lashes in gold and silver material with swaying little fringes for an electrifying shine.
Now this is something truly gorgeous and of course you have to pay a decent price for such beauty. So, Santa, if you are reading this post, I'd really like to get a pair 😉
Each pair is £50 or $65 which is a huge price for the eye lashes but, look at them, it's a true masterpiece! I would most certainly wear these for a holiday party, if only I had them. I think it's a great way to get something luxurious without being broke (obviously, not everyone can afford real diamonds on the lashes like Madonna).
And what are your thoughts? What pair to do you like best?