Clarins' Makeup collection for Summer 2014 called Colours of Brazil is absolutely  gorgeous with all the gold and blue shades and beautiful  prints and  embellishments.
My personal favourite product has to be the Colours of Brazil Quartet & Eye Liner Palette (£32)
Truly stunning shades of eye shadows and that eye liner is to die for. Plus you get a special edition compact.
There is one more product for the eyes – TrulyWaterproof Mascara (£21) in black.
According to the brand, it is both lengthening and volumizing, the formula contains the combination of bitter orange tree wax and squalance from olive, which nourishes and conditions the lashes. It will be a part of the permanent line, unlike all the other products from the collection.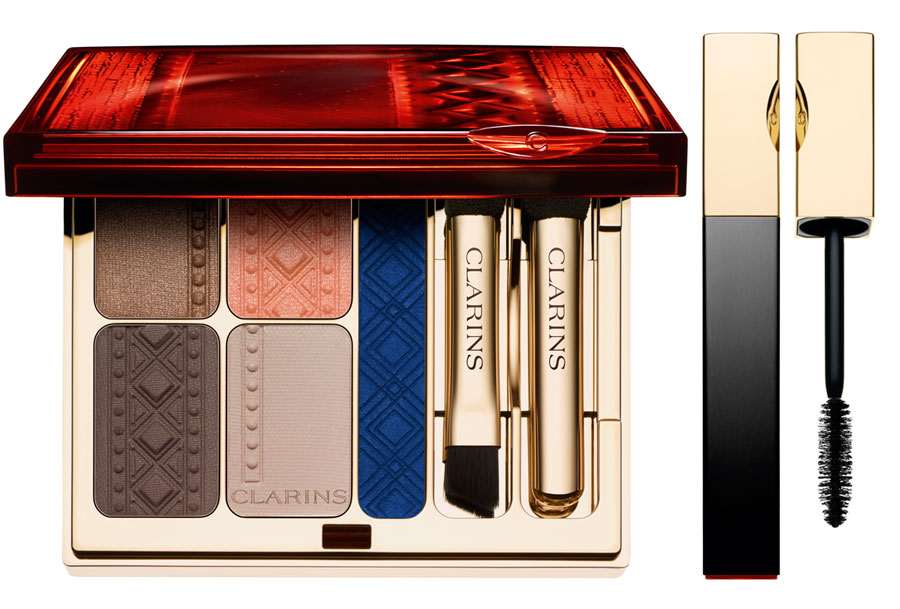 I am a huge fan of Clarins lip products, so am happy to see six shades of the new product, the brand's variant of lip crayons – Lip Balm Crayons (£18). These are promised to give sheer luminous colours while hydrating and comforting the lips thanks to the she butter.
01 My Pink (react with the pH of lips to create a unique shade), 02 Creamy Pink, 03 Tender Coral, 04 Sweet Cherry, 05 Delicious Plum  and 06 Soft Coffee
Finally, there is a bronzer – Summer Bronzing Compact (£30). And Clarins know how to make a good bronzer!
Just like the eye shadows, you get a product with  a South American inspired motif. The blend of  brown and terracotta shades should add luminosity and some warmth to your complexion.
This collection is out in May.