I am personally a "Touche Eclat girl" when it comes to under eye products, although it is a highlighter, not a concealer, I find that it works for me! But sometimes, that is not enough. If only I had more hours of sleep.
I have very dry skin, so can't imagine putting heavy, full coverage concealers/correctors under the eyes, as those would make me look 10 years older.
That's why I was curious to try Clarins' Insant Concealer.
I have shade No2, which is described as 02 pinky-beige, and which is a perfect match for my skin tone.
I love the design of this concealer, you don't have to put your fingers in it, or  use the attached brush, like with most  concealer-type products, so it's a good one to have in a kit, too.
The formula is very nice, indeed. It is liquid and it blends into the skin easily. I love that it doesn't feel heavy at all and doesn't really enhance the lines, but I always use eye cream some time before this concealer.
I find that it works well when it comes to covering dark circles. It's a perfect balance of light texture and coverage. I personally would never put anything heavier on myself, or on any mature woman with dry skin.
I think that "Instant" is a good name for this product, as it does change the way you look within seconds. Bye-bye dark circles  and tired-looking eyes, hello bright and smooth skin (it contains aloe and green coffee)!
Application wise, I like applying it both with a brush or fingers. As for staying power, it is pretty impressive, too.
Below you can see how well it covered my vein on the arm…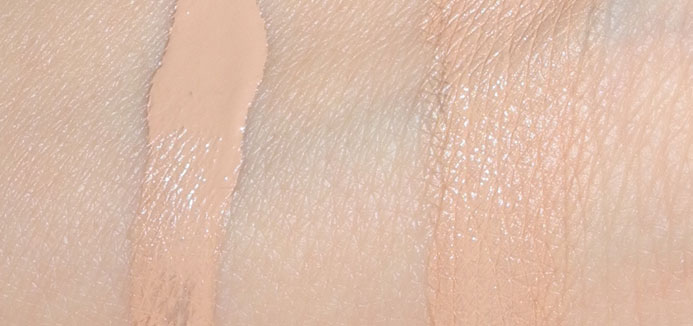 I think this is a great product and is definitely worth trying. The price is £20/$30 for 15ml
You can buy it from Escentual.