As you may remember, there are a lot of new foundations out for Autumn. So here is, as promised, review of one of them – Clarins Skin Illusion Mineral & Plant Extracts Loose Powder Foundation.
I have the lightest shade, of course, which is 105 Ivory. I actually really like the design of this foundation.  I love how it looks on my vanity, it draws attention and it is cute. Isn't it important, too? 😉
I don't usually use mineral foundations as they may look powdery and a bit cakey on my dry skin. But since it's summer my skin is normal now, so I've decided to give this one a try. I've had it for several weeks and am ready to tell you my opinion.
Here is how the powder  looks like.
First of all, I love the scent, it smells fresh and floral, as a lot of Clarins powders do, and I love it!  I was afraid that it may look too obvious on my skin, but it doesn't.  You should prep your skin first and application is the key here (more on that read below). But it looks flawless and blends in beautifully. Skin Illusion doesn't feel heavy on the skin, if fact, I can't even feel it.
It is long-lasting and stays on really well. Unfortunately, I did not have a chance to test it out in the heat but it does stay  on all day long when it's  +25C.
The coverage is medium to high, it is buildable, I had some skin problems this month and it was enough. I just used a little bit of concealer on top. Otherwise, this loose  powder foundation would be enough.
I have also used cream products on top (photo below) and they worked great together.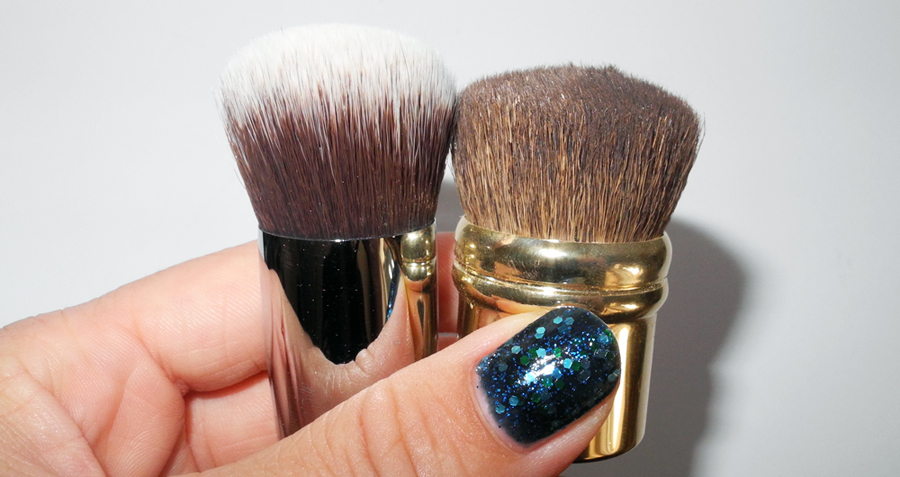 As for the application…
The small brush it comes with is very handy and I find that it is great for applying this foundation. Buff  the product into the skin with the circular motions until it blends in completely.
Make sure that you tap off the excess as you don't need that much!  It also very important to properly moisturize your skin before (I don't mean just before the application) as you don't want to enhance the dry patches on your skin.
I also love using Sigma's F82 Rouded Kabuki which gives a beautiful flawless application.
You may want to spray it with MAC Fix+ for a very smooth and glowing finish. I like it both ways actually.
I also have some blush on which is Max Factor's Micarle Touch Creamy Blush in 09 Soft Murano. Would highly recommend these blushes.
As you can see, it looks nice on the skin, not dull or patchy at all!
Hopefully, I have covered everything but if you have questions, feel free to ask them in the comments!
Here is the list of the ingredients for those who are curious
There are six shades available: 105 Nude, 107 Beige, 108  Sand, 109 Wheat, 110 Honey, 112 Amber.
The price is £28 for 13 g. Available  from  Escentual.com,  Nordstorm,  Sephora, Boots,  Bergdorf Goodman, Selfridges, Harrods…