Clinique's new limited-edition makeup has fresh-picked power. Try luscious new colour compacts for eyes and cheeks, dress lashes in High Lengths Mascara, and add a dose of colour with Vitamin C Lip Smoothie Antioxidant Lip Colour and you're spring-fresh.
Fresh Picked Allover Colour , $29.5
Long-wearing powder creates a sheer, subtle radiance that looks fresh, stays fresh. Sweep over face for an allover luminous glow, or brush on cheekbones to highlight.
Fresh Picked Eye Shadow, $17.50
Creamy, intense color in one stroke. Spring-fresh pairings of base and contour eye shadow with a soft shimmer finish. Comfortably lightweight, long-wearing. Ophthalmologist tested.
Fresh Picked Berry
Fresh Picked Pear
Clinique Eye Defining Liquid Liner , $14.5
Draws a dramatic line in one fluid stroke. Fast-drying liquid liner flows on with ease for intense, precise color. Water-resistant formula stays comfortable, wears long and true. Suitable for contact lens wearers. Ophthalmologist tested.
Black
Dark Brown
Clinique High Lengths Mascara , $14
Stretch limp, lifeless lashes to lengths beyond your wildest expectations. And wow—eyes look noticeably wider, fully energized. Our curved, fine-toothed comb finds the tiniest lashes and brings them out of hiding. Ophthalmologist tested and appropriate for sensitive eyes.
Black
Black Brown
Clinique Instant Lift for Brows , $15
Two-in-one automatic brow pencil and pearlized highlighter duo creates a contrast and definition that give eyes a virtual lift. First, fill in and shape brows with long-wearing, natural-looking pencil. Then optically 'boost' brow arches with universal highlighter shade just below brow hairs.
Deep Brown
Soft Blonde
Soft Brown
Clinique Eye Shadow Brush , $18.5
Clinique Powder Brush , $30
You can check out the photos of brushes @ Nordstorm
Clinique 'Vitamin C Lip Smoothie' Antioxidant Lip Color , $17.5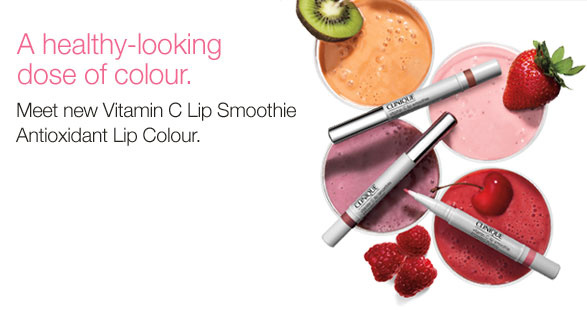 Clinique has squeezed in the best ingredients, like vitamin C, and powered up antioxidants so lips look and feel their healthy best. Your recommended daily dose of lusciousness. Brushes on color and shine in juicy, moisture-rich blends.
Absolute Acai
Fig-A-Licious
Goodness Grapecious
Mango-Thon
Nude-Tritious
Pink Me Up
Raisin The Bar
Rhubarbie
So what do you think about this collection? I think there are some nice shades and that Clinique Instant Lift for Brows looks interesting.
Collection is already available online