Along with the High Impact lipsticks by Daniel Sandler I've also got the Luxury Lipstick (£13.30) to try out.
I have  a gorgeous shade called Temptress (love the name) which is a true and beautiful red.
I like the simple yet elegant design of the lipstick and the fact that the price is not as high as some other brands' lipsticks.
It is said that Luxury Lipsick contains Folic acid lip and  hyaluronic acid to plump and moisturize the lips. I have to say that I like the formula as it glides on easily and looks beautiful on the lips, it is not drying at all.
What about the staying power? It looks perfect until you start eating/drinking and I can't stay away from food & drinks for hours even in the name of beauty to see how long my lip products will last.  But I would assume that it does last for hours as it is promised.
As for the colour, I really love it, I think it's a very beautiful shade which looks stunning with a  cat eye or with minimal eye makeup.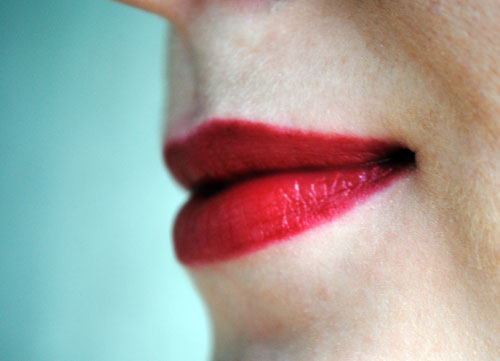 I've applied it without a brush to show you what kind of application you can get without it but with a brush it would look even nicer!
This is a beautiful lipstick to have.