Today I would like to share about my experience with Dietbon diet ready made meals
I was sent a week's worth of food, a manual and had a consultation with a certified dietitian. So here is all about my experience, and also a photo of every single meal I've had during the week.
First of all, I have to say that I was very impressed with the fact that you get a consultation with a dietitian. It's a great opportunity for everyone to understand more about eating and Dietbon in particular. It is also brilliant to have some encouragement and reassurance that you are doing everything right.
Day 4. 5th of March: Chicken and Asparagus Risotto and Marinated Grilled Salmon with Mashed Courgettes. Tea and snacks.
I had a consultation with a lovely lady called Jenny, and, although I hate talking on the phone, especially with people I've never met before, it all went smoothly, and I've enjoyed our conversation.
Here are 3 tips from Jenny which I want to share:
Drink water first thing in the morning. I actually do drink first thing in the morning but I usually have a herbal tea with a bit of honey.
Drink more water in general, it is also a great thing to do when you come back from work (when you do; during the "normal times" not now) have a glass of water. A lot of people can't tell the difference between thirst and hunger so doing that will help with not eating sugar and fast food, and will give you some time to think of what to cook.
Don't be very hard on yourself/don't beat yourself up when you had a piece of chocolate or some crisps. Yes, and amen. I personally let myself eat everything, just in moderation. So when I really want some ice cream (ooh, ice cream, my love!), I will have some. This does not mean, however, that I will be eating it all day every day.
Dietbon Low Glycemic Index Bread. What I had for breakfast every day during a week. I've added a thin layer of butter, some cucumber and baby spinach.
What is Dietbon?
Dietbon is a diet plan using ready meals which are delivered to your home. You get food for 6 days, and the 7th day is a free day which means you can go out for food and cook what you want. They also provide a very useful manual with some ideas of what you could cook.
It is a balanced diet with a big variety of options, it is portion and calorie controlled, and, according to Dietbon, allows you to loose up to 8 lbs (3.6 kg per month). It's also important to mention that there are no additives,
preservatives or artificial colourings, no GM ingredients, artificial sweeteners or palm oil.
Organic Apple and pear compote; Poppy and linseed biscuits
My snacks of choice:
So how does your day look like food wise?
Breakfast: You get the type of bread or pancakes you choose
Snack 1; there are a few options to choose from. And I had poppy and linseed biscuits
Lunch of your choice
Snack 2; again – there are a few options to choose from. I chose organic apple and pear compote
Dinner of your choice
28 days of Tea Detox Morning & Night ( Vitalize Me to energy and focus // Keep Calm – to de-stress and relax)
Poppy and linseed biscuits and Vitalize Me tea. Close up of both teas
As I've already mentioned, I took photos of every single meal I had. So here we go.
The Meals and My Impression
First of all, I have to mention that all meals were very delicious.
It was also extremely easy to follow the plan, I did not have to worry about anything at all.
I was shocked at how much extra time I had while following this plan, I did not have to go food shopping and cooking. Not to mention looking for new recipes and things like that. I've used all the extra time to see friends and to read more. Bliss.
1 Day. 2nd of March: Spicy tomato and beef soup and Ravioli stuffed with goat's cheese pesto with a tomato and tofu sauce
To be honest, I found the first 2 days to be rather difficult. I did not have that much energy. While I do eat relatively healthy, I probably eat bigger portions so my body was adjusting. The dietitian did tell me that it was normal because this plan is for healthy weight loss, after all.
While losing weight was not my goal really, getting a bit slimmer was great.
While I do not have bathroom scales (I don't want to be constantly under pressure to check my weight), I could tell that my trousers fit me better after a week. I am, obviously, not talking major changes (it was only a week, after all) but I could tell the difference.
Day 2. 3rd of March: Roast chicken fillet with mashed potatoes and Marengo veal
While I did not have that much energy during the first two days, on the third day it started getting better, and I could go back to all my physical activities: walking and working out. I did not feel so tired anymore. In fact, it seemed like I've had more energy.
I liked the fact that, besides the meals, you could also have two snacks of your choice, and they were really tasty, I was always looking forward to eating them.
Tea is something I am very picky about, and I enjoyed both teas a lot. I loved the taste and the fact that you could actually see the herbs not just some random dust, as it can be with a lot of tea bags.
Day 3. 4th of March: Creamy vegetarian carrot and coconut soup and Chicken tikka massala with rice and quinoa
As for the free day, it was actually my Birthday so both my husband and I decided to take a day off and spend a day in York. So, while I did not use any tips from the book, I still ate pretty healthy, and took photos of both lunch and dinner just for this post.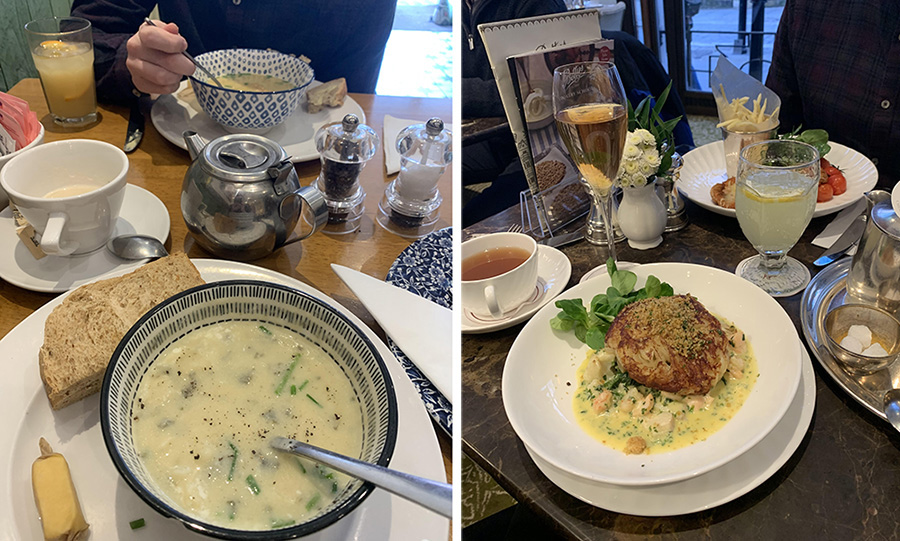 Free Day meals: Soup for lunch (I did not eat the bread) and creamy seafood with potato hash for dinner.
In general, I was very happy with my experience. While the first 2 days were a bit difficult, it got back to norm soon, and I've learned that I don't need that much food actually. It saved me a lot of time and effort. And all the food was delicious. There are a lot of options to choose from, and the ones featured were chosen by me based on my preferences. If I had to choose my favoutite meal – it would have to be Chicken fillet with rice and almond sauce. Absolutely delicious.
I have to say that it's been almost 20 days since I've finished my Dietbon experience but I am still enjoying a more mindful food consumption. As I've said, I have always been eating relatively healthily but now I try to eat smaller portions and snack less. And I do not feel deprived at all. In fact, I still have ice cream and crisps from time to time. It's all about the moderation!
Day 5. 7th of March: Beef Bourguignon and Chicken fillet with rice and almond sauce
The Cost and Offer for my Readers
Here are the rates of the Dietbon. And considering that you don't have to use any time or effort, it is a great value for money. And it can be a great option now, considering the situation we are all in:
• 1 month: £79 per week
• 2 months: £69 per week
• 3 months: £59 per week
• 4 months and + : £49 per week
• 6 mouths and + : £44 per week
According to Dietbon, this amounts to less than £7 per day for 4 meals, including delivery and dietary consultations.
Dietbon kindly offered a free 28-day Morning & Night detox tea cure for my readers' first order. To use the offer, you have to use the following link: http://bit.ly/db-makeup4all
Day 6 8th of March: Lamb Tajine with Potatoes and Olives and Salmon with vegetables and grains and a soya sauce
As I've already mentioned, all the food was sent to me; all opinions are my own. The links are not affiliated.